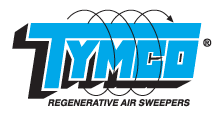 TYMCO Announces Full Availability of Natural Gas-Powered Model 500x
High Side Dump Regenerative Air Street Sweeper is Available 100% Powered by Clean Natural Gas
(Waco, Texas) October 2014 –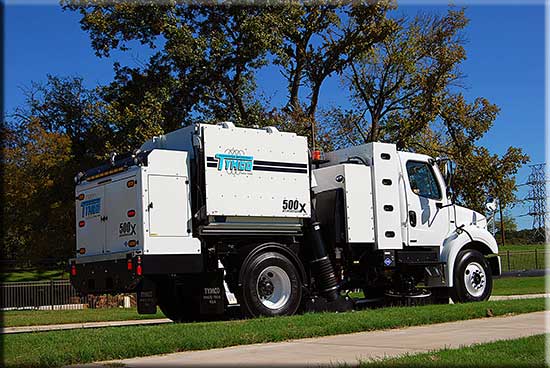 TYMCO® has announced full availability of the 100% Compressed Natural Gas (CNG) powered Model 500x high side dump regenerative air street sweeper. Since its introduction, the Model 500x has only been available powered by a diesel auxiliary engine and has proven its performance and reliability in government, contractor, construction and industrial markets. TYMCO is now ready to expand the high side dump sweeper offering by combining our 20+ years of CNG expertise and experience from the Model 600 CNG with the highly successful, diesel-powered Model 500x.
"TYMCO is a pioneer when using alternative fuels – starting with propane (liquefied petroleum gas [LPG]) in the 1980s and first introducing the Model 600 CNG in 1993," said Bobby Johnson, TYMCO's Vice President, Marketing. "With over 9 years of the Model 500x being successful in the field, offering this sweeper in CNG was the next logical evolution for this product."
There were several enhancements that were engineered into the Model 500x during the development of the Interim Tier 4 (IT4) Model 500x and TYMCO engineering transferred most of those enhancements over to the Model 500x CNG. Some of these include – a very service-friendly auxiliary engine compartment, excellent hydraulic performance in extreme applications and a new, high performance Donaldson PowerCore air filter assembly with integrated pre-cleaner. TYMCO engineering also integrated a new, larger high resolution color display with expanded functionality as part of the BlueLogic® Control System.
Environment
Natural gas vehicles (NGVs) can have positive impacts when looking to reduce criteria air pollutants as well as greenhouse gases (GHGs). Natural gas is considered a highly abundant fuel source in North America and can offer fuel cost savings compared to conventional fuels such as diesel and gasoline. Incentives for NGVs may be available in some areas, specifically those which are in non-attainment for nitrogen oxides (NOx) emissions standards.
Availability
The Model 500x CNG is available today in the United States and Canada through the TYMCO Dealer Network on the Freightliner M2 112 CNG conventional truck chassis, equipped with the Cummins ISLG CNG engine.
About the 500x
The Model 500x is built using the highly efficient, time-tested TYMCO Regenerative Air System that delivers rock-solid reliability and an amazingly clean sweep. TYMCO took the best of the Model 600® – unprecedented reliability and incredible power – added a variable dumping height stainless steel hopper, Tilt-N-Seal® blower system and state-of-the-art BlueLogic Control System to build the most advanced high side dump street sweeper available today.
About TYMCO
TYMCO modernized street sweeping in the 1960s with the invention of the Regenerative Air System and Model 600, reinvented parking lot sweeping in the 1970s with the Model 210 and delivered high speed Foreign Object Debris (FOD) removal with the Model HSP airport runway sweeper in the 1980s.
TYMCO also pioneered environmentally conscious dustless sweeping with its Model DST-6 and Model DST-4, and leads the clean alternative fuels market with Compressed Natural Gas (CNG) powered sweepers. Today, TYMCO continues its dedication to the Regenerative Air System by driving innovation with the highly maneuverable Model 435 and high dump Model 500x street sweepers, and has recently introduced the hDrive Power System for the Model 210h which is defining the future of sweeper power systems.
For more information, contact:
Tom Rokas
TYMCO, Inc.
tom.rokas@tymco.com
(254) 799-5546
TYMCO, the TYMCO logo, Regenerative Air, 210h, hDrive, BlueLogic, 600, 210, HSP, DST-6, DST-4, 435, 500x and SRE are registered trademarks of TYMCO. Other company and product names may be trademarks of their respective owners.