Sweepster VS Features Vacuum Dust Abatement System For Cleaner Sweeping
The Sweepster VS by Paladin Construction Group utilizes a vacuum dust abatement system that reduces visible dust while sweeping.
Paladin Group – October 1, 2011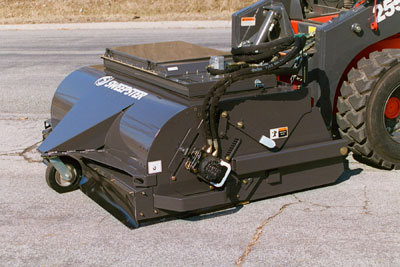 The high-volume fan on the Sweepster VS pulls air from the sweeping chamber, filtering dust as small as 10 micron with a PTFE impregnated washable filter. The system reduces dust without bulky and awkward water systems and is available for skid steer mounting in 5-, 6- and 7-foot widths.
A drape system that seals the sweeping chamber to the ground maximizes the efficiency of the vacuum dust collection system. An electric shaker cleans the filter when sweeping and dumping. A high dump feature allows for emptying of the collected debris from the sweeper hopper at the maximum height of the skid steer loader.
A large 26-inch diameter quick change brush maximizes sweeping effectiveness. To ensure a clean surface, the front caster follows ground contours independently of the loader keeping the brush in contact with the ground. A "volumizing" feature maximizes the capacity of the collector bucket, which is a general purpose, light material bucket with a bolt-on cutting edge.
---
Paladin Construction Group is a leading manufacturer of couplers and attachments throughout North America for the construction, aggregate, agriculture, landscaping, land clearing, recycle, mining, demolition, utility, aviation and municipal market segments.
You may view an overview of the Paladin Construction Group's product line in the company's informative 4-minute YouTube video. For more information about Paladin's entire line of coupler and attachment offerings, call 800-456-7100; fax 734-996-9014; e-mail: pcginfo@paladinbrands.com; or visit www.paladinconstructiongroup.com.
---
Editor's Note: If you have more information about this press release, please let us know. If appropriate, we'll add it to the bottom of this page.
---