Sweepster's CS High Dump Collector Sweeper Reduces Dust While Sweeping with Efficient Vacuum Action
The sweepers utilize existing equipment at the jobsite or in the city garage. 7- and 8-foot wide sweepers with 26" diameter brushes are designed to operate with TLBs, Telehandlers and Compact Wheel Loaders up to 1.5 cubic yard capacity.

8- and 9-foot wide sweepers with 32" diameter brushes are designed to operate with Wheel Loaders from 1.5 to 3 cubic yard capacity.
Paladin Group – September 22, 2011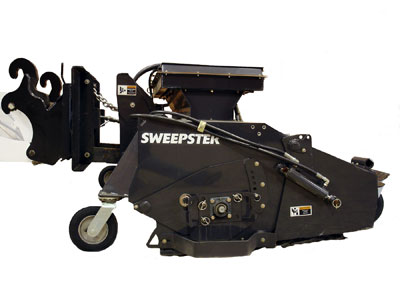 The vacuum dust abatement system on the Sweepster CS high dump collector sweeper by Paladin Construction Group reduces visible dust while sweeping.
The high volume fan of the Sweepster CS pulls air from the sweeping chamber, filtering dust as small as 10 micron with a PTFE impregnated washable filter. The system reduces dust without bulky and awkward water systems.
These sweepers are designed for clean sweeping operation. Four casters and parallel linkage suspension allow the sweepers to follow ground contours independently of the loader. A floating brush keeps the brush in contact with the ground while the brush throws debris forward into the collection hopper.
The unique hydraulic dump feature without secondary attachment to the loader allows disposal of debris into trucks or containers at the maximum lift height of the loader.
The brush is a quick change design without breaking hydraulic lines for easy replacement of the polypropylene or poly/wire combination brush. The brush pattern can be easily changed without tools.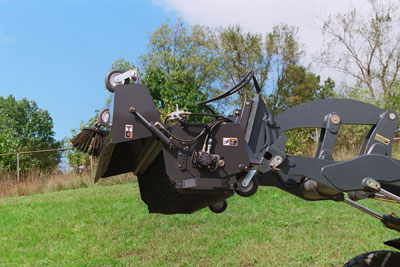 Attachment and removal is fast and easy, utilizing the quick attach on the loader arms and the hose connections from the third function valve. No electrical connections or case drain connections are required.
Street and highway cleaning, parking lot maintenance, access road cleanup, subdivision sweeping and more are all tasks ideally suited for the Sweepster CS sweepers. Optional gutter brooms and water dust suppression systems are available.
---
Paladin Construction Group is a leading manufacturer of couplers and attachments throughout North America for the construction, aggregate, agriculture, landscaping, land clearing, recycle, mining, demolition, utility, aviation and municipal market segments.
You may view an overview of the Paladin Construction Group's product line in the company's informative 4-minute YouTube video. For more information about Paladin's entire line of coupler and attachment offerings, call 800-456-7100; fax 734-996-9014; e-mail: pcginfo@paladinbrands.com; or visit www.paladinconstructiongroup.com.
---
Editor's Note: If you have more information about this press release, please let us know. If appropriate, we'll add it to the bottom of this page.
---