Sweeprite Returns to North American Marketplace

Sweeprite is back! So starts the press release from the new manufacturer of the Sweeprite sweeper line, Merit Manufacturing, Inc.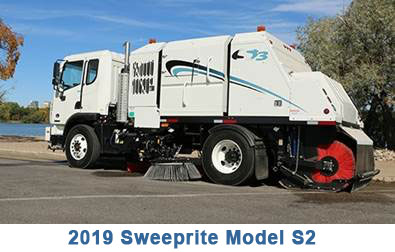 Merit Manufacturing, Inc. – February, 2019
Sweeprite, the manufacturer of the legendary SR 2200 & SR4400 mechanical street sweepers, has returned to the North American sweeper industry.
Sweeprite is now owned by Merit Manufacturing Inc., a world class laser cutting, metal forming and fabricating company based in Kitchener, Ontario, which is about 1 hour west of Toronto.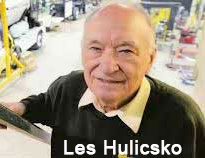 "Over the years Sweeprite may have changed owners and names but its employees have always embraced the philosophy set out by our founding President, Mr. Les Hulicsko," says Dario Manti, Sweeprite's International Sales Manager. Hulicsko was recipient of the 2015 WorldSweeper/World Sweeping Association's Award of Excellence in Power Sweeping. Continues Manti, "Les taught us to always place our customer's needs first – and to build one tough mechanical street sweeper!"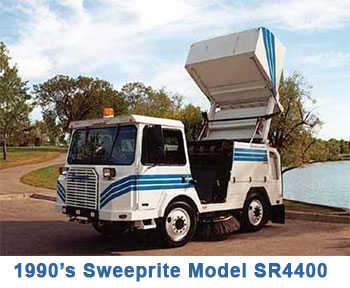 There are still scores of Sweeprite, Python and Superior Roads sweepers in service across North America. Sweeprite's legacy fleet can be found cleaning the roads around Canada's largest National Park, beachside parks in Fort Meyers, Florida, long stretched of dusty highway in Arizona and keeping up with traffic while cleaning the Brooklyn Bridge in New York City.
"We always enjoy speaking with the owners and operators of Sweeprite's legacy fleet," says Manti. "They proudly operate units built in the 1980's and 90's and continue to work them hard every day! Many claim their 20-year-old Sweeprite is the best unit they own. It's no wonder that the Sweeprite design is the most copied in the industry. They also have some of the highest resale prices in the industry if you can find someone willing to part with their Sweeprite. We are also now supporting our legacy fleet with OEM parts made from the original blueprints.

"Sweeprite has come a long way from its early years building boxy street sweepers on the Canadian Prairie.
We now offer digital cameras, one-button automation, high output LED lighting, in-cab brush controls, our exclusive "Sweeprite Water Saver System," air conditioning and a host of other operator comfort and efficiency features.
All diesel power plants meet the latest pollution control requirements. We also strive to keep operational cost low and affordable. Many wear components are off-the-shelf items and a strong aftermarket also continues to support our legacy fleet."
The New Sweeprite's Five Sweeper Models
---
The Sweeprite Model S2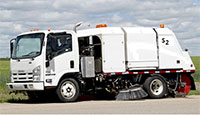 The Model S2 is designed to be a highly maneuverable urban sweeper. It's mounted on an Isuzu NRR chassis, so no special driver's license is needed, and it's engineered for use in tight spaces. As with all of our sweepers and skid steer attachments it features our Water Saver System. Both the S2 and the S3, shown below, are PM-10 certified.
---
The Sweeprite Model S3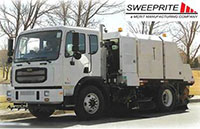 The Sweeprite S3, (The Beast) is engineered with four hydraulic pumps to pick up heavy road debris and lots of it. The S3 is the perfect machine for road milling. During a recent demonstration in SW Ontario, city staff were shocked when they unloaded the hopper and discovered the S3 had picked up brick-sized pieces of ice.
---
The Sweeprite Model G1
All three units shown below use the hydraulic power of the skid-steer to power their brushes.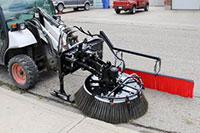 The Sweeprite G1 is a gutter brush attachment – basically a S3 gutter brush standalone unit. G1 users can pre-sweep gutters and deposit the debris in a nice line on the street for the larger sweeper to pick up.
It's perfect for cleaning out set-up, hard chunks of sand, salt and crushed stone that were spread during the winter months (it's a Canadian thing). The built-in water spray keeps the dust under control.
---
The Sweeprite Model G2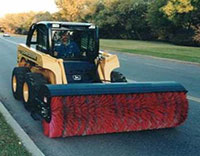 The G2 "Hedgehog" is Sweeprite's high-speed, angular brush attachment. The G2 perfect for brushing away light sand or even snow.
---
The Sweeprite Model G3
Users tell us the G3 is an engineering home run. There are many skid-steer attachments available that come with a brush and a small hopper. However, the G3 turns your skid-steer into a true street sweeper.
The unit runs on four wheels so none of the weight is borne by the skid-steer. The main brush uses the same floating technology to follow the contour of the roadway as our S2 and S3 models.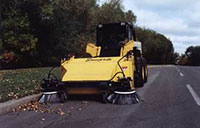 There are two gutter brushes and a water spray system to control dust while sweeping. Mirrors can be mounted to monitor the gutter brushes. This is the perfect skid-steer addition for smaller communities that lack the funds to buy a $200k road sweeper. It's highly portable and perfect for emergency clean-up operations.
---
WorldSweeper also offers an 8-minute audio interview with Sweeprite's International Sales Manager, Dario Manti, in which he discusses the two Sweeprite road sweepers, as well as the company's re-entry into sweeper manufacturing. The audio will open into a new browser window.
---
For more information or to schedule a demonstration, contact Dario Manti at sales@meritsweeprite.com or by calling 519-648-9777 ext. 230. You may also visit the Sweeprite website, located at www.meritsweeprite.com.
---
Editor's Note: If you have more information about this story, please let us know. If appropriate, we'll add it to the bottom of this page.
---