Sweeprite Introduces First All-Electric Chassis-Mounted Parking Lot Sweeper to North America

by Ranger Kidwell-Ross
Sweeprite, a Merit Manufacturing Company, introduced its new e-Raven, all-electric, parking area sweeper at the Sweeper Summit. Les Huliscko, the man who pioneered the use of hydraulic power in street sweeping machines was the principal designer of the new e-Raven regenerative air sweeper.
Although there are some European-made, purpose-built, electric sweepers that can be used for parking areas, Sweeprite's new e-Raven is the first chassis-mounted machine in that market. The all-electric machine – which has an entirely electric-powered chassis, sweeper fan and twin curb brooms – appears to have a ready-made niche in the market for parking area sweepers.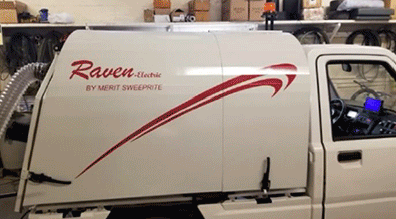 The 'niche portion' is primarily due to the chassis top speed of 25 mph and, perhaps, the machine's dump height of 32". Still, for urban usage, in-house mall sweeping and indoor/outdoor industrial applications with no pollutant output, the e-Raven seems destined to develop a dedicated following.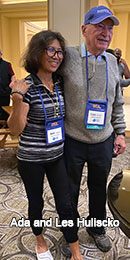 Les Huliscko, shown here with his wife, Ada, has long been known for his innovative designs for productive sweeping, which include the Sweeprite Husky, SR2200 and the Python Road Wizard, the e-Raven is just the latest in that regard. In fact, for his pioneering designs for the power sweeping industry, Huliscko was recipient of the 2015 WorldSweeper/World Sweeping Association's Award of Excellence in Power Sweeping.
The all-electric e-Raven sweeper offers a 60" sweeping path and a 1.6 cubic yard hopper capacity, front- and rear-mounted cameras and adjustable twin curb brooms with a 25-gallon dust suppression capacity. The sweeper in its standard configuration takes about six hours to charge and then offers about the same amount of sweeping time. According to Dario Manti, Merit Sweeprite's Sales Manager, a newer lithium battery will be available that will decrease the charge time to three hours and increase power/runtime by around 50%.
Chassis parts are readily available in California, as well as through Sweeprite's Ontario, Canada, location. To start, Eddie Salcedo's California-based Sweeper Works (408-436-5400) will also be a dealer for the e-Raven. Salcedo has an extraordinary depth of knowledge in both broom and air power sweeping technologies and specializes in all forms of sweeper maintenance. His company also represents the rest of the Sweeprite line.
To provide you with complete information on the new e-Raven sweeper, we offer a 12-minute audio podcast interview with Manti, which you will find linked below (will open into a new browser window). Sweeprite's brochure for the machine is linked here as a PDF file.

---
About Merit Sweeprite
Sweeprite is a division of Merit Manufacturing Inc. We proudly manufacture and assemble our sweepers in Breslau, Ontario, Canada.
For further information, please contact Dario Manti at sales@meritsweeprite.com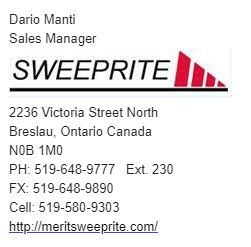 ---