Stewart-Amos Sweeper Co. Introduces the Starfire S-4c Mechanical Broom Street Sweeper

Introducing the NEW Starfire S-4c from the Stewart-Amos Sweeper Company. Enhancements include 11' variable dump height, 16′ 9″ turning radius, 33% greater hopper lift capacity, and road- or curb-side hopper dump.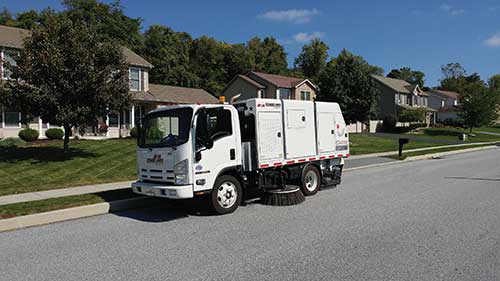 Stewart-Amos Sweeper Co. – January, 2017
Stewart-Amos Sweeper Co., a leading designer and manufacturer of the most productive and cost-effective street sweepers available, introduces the Starfire S-4c, a heavy duty, mid-size mechanical broom street sweeper mounted on a highly maneuverable 19,500 GVWR non-CDL chassis. The Starfire S-4c is an update of Stewart-Amos' extremely popular Starfire S-4 with many value-added features that enhance the S-4's time-proven design.
Key enhancements include a 10% increase in hopper dump heights (up to 11'), tighter 16'-9" turning radius, 20% larger fuel tank (up to 36 gallons), 2,000-lb. greater hopper lift capacity, and road- or curb-side (left or right side) hopper dump. The S-4c is unique in that it is the only mechanical broom sweeper on the market that allows customers to specify either street- or curbside hopper dumping. Customers simply choose a dumping side that best meets their visibility, safety, and productivity needs at the time of purchase.
"The Starfire S-4 has become the staple of Stewart-Amos' line of mechanical broom sweepers due to its reliability, simplicity, and economical cost of ownership," says John Paraschak, Vice President of Sales & Marketing. "The enhancements we've made only improve upon its steadfast design, and we are excited to introduce the S-4c to our customers and dealers."
The Starfire S-4c comes with standard Starfire features such as: an exclusive 3-shaft elevator system that significantly improves wear life over similar 2-shaft designs, spring-balanced, full-floating gutter brooms that automatically compensate for wear, and extra reach 44" dump door that makes debris disposal faster, cleaner, and safer. This unit also has a large 4.0 cubic yard debris hopper mounted on massive quad (4) "X" style lift scissors for improved lifting strength, stability and dumping capability.
Stewart-Amos will exhibit an S-4c during this year's National Pavement Expo, February 1-4 in Nashville, TN (at booth 953), and at the APWA Public Works Expo, which will be held August 27-29 in Orlando, FL (booth 200). Attendees are encouraged to stop by.
For more a full list of specs for the Starfire S-4c or to schedule a demonstration, contact John Paraschak at jparaschak@stewart-amos.com or by calling 717-514-6119. To view the full line of Stewart-Amos Starfire mechanical broom street sweepers, visit www.stewart-amos.com.

---

Since 1938, Stewart-Amos Sweeper Company has designed and built effectively simple machines that are easy-to-operate and affordable to maintain. Stewart-Amos offers 7 Starfire mechanical broom and 3 Galaxy regenerative air street sweepers, each with unique value-added features designed to meet any and all sweeping needs. Stewart-Amos sweepers have the lowest cost of ownership available, and all models share over 90% parts compatibility to provide low maintenance costs and unrivaled part availability.

For more information on the Stewart-Amos Sweeper Company, go to the company's website at www.stewart-amos.com. You may reach the company by phone by calling 800.482.2302; the general email address is sales@stewart-amos.com.
---
Editor's Note: If you have more information about this story, please let us know. If appropriate, we'll add it to the bottom of this page.
---