Stewart-Amos Sweepers Unveils New Starfire S-4XL Model

Introducing the NEW Starfire S-4XL from the Stewart-Amos Sweeper Company.
Stewart-Amos Sweeper Co. – February, 2014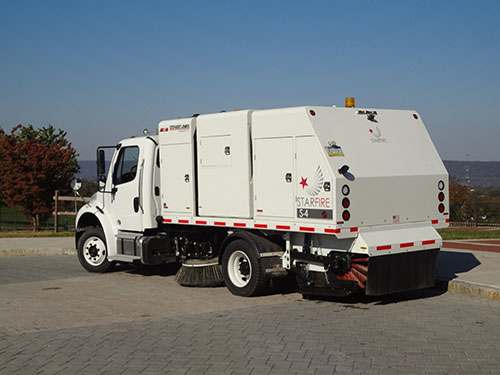 The new model S-4XL, by Stewart-Amos Sweeper Company, is a full-featured, mechanical broom street sweeper mounted on a NON-CDL chassis. It features an oversized 4.5 cubic yard hopper, variable 12-foot dump height, 330 gallon capacity dust suppression system and 10-to-11-foot sweeping path.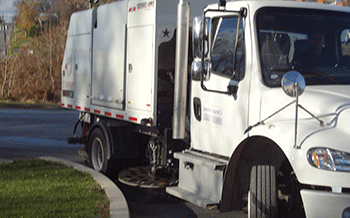 "We built the S-4XL to handle the toughest cleaning needs," said Frank Chulich, company president. "Like our other Starfire models, which range from 4-to-6-cubic yards, the XL has the same proven design and time-tested operating components. It's also equipped with our exclusive three-shaft elevator system which has been shown to extend useful chain life, reduce routine maintenance and extend productivity."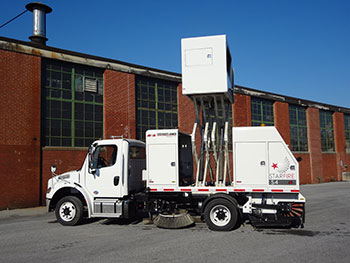 Four massive "X" style lift scissors (up to 14,000 lb. lifting capacity) ensure exceptional hopper stability when dumping wet, unbalanced or sticky loads. An extended reach dump door makes the dump procedure faster, cleaner and safer.
The S-4XL is one of five Stewart-Amos models mounted on NON-CDL chassis. They offer driver staffing flexibility and increased maneuverability.
All Stewart-Amos Street Sweepers are built "Effectively Simple" to operate and maintain. We bring fresh ideas to an old, established industry by taking time proven designs and subtlety tweaking them to maximize their cost effectiveness, durability and productivity.
For more information on the Stewart-Amos Sweeper Company, go to the company's website at www.stewart-amos.com. You may reach the company by phone by calling 800.482.2302; the general email address is sales@stewart-amos.com.
---
Editor's Note: If you have more information about this story, please let us know. If appropriate, we'll add it to the bottom of this page.
---