Soundcore Capital Partners Announces First Two Sweeping Industry Acquisitions
New York, NY – April 2017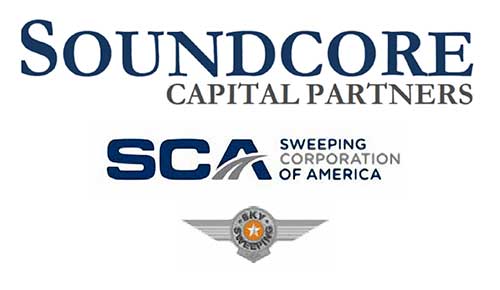 Soundcore Capital Partners, LLC ("Soundcore"), a New York-based private equity firm, has announced completion of several acquisitions in the power sweeping industry. First was Sweeping Corporation of America, Inc. ("SCA"), the largest independent power sweeping company in the Southeastern United States. Included in the purchase was SCA's sister company, Sani-Tech JetVac Services, LLC.
Headquartered in Nashville, Tennessee, SCA has provided reliable, cost-effective street sweeping, catch basin cleaning & ancillary services to the Southeast region of the United States since 1988. With eight facilities strategically located throughout Tennessee, Alabama, Georgia, North Carolina, Kentucky, Arkansas, Mississippi and Louisiana, SCA is a reputable industry powerhouse responsible for maintaining over 25,000 miles of roadways and parking lots each month for states, municipalities and airports, as well as industrial, residential and commercial facilities.
Subsequent to acquiring SCA, Soundcore additionally purchased Ohio-based Sky Sweeping. "We spoke with many great companies," said Feliks Zarotsky, Managing Partner of Soundcore, "before selecting Sweeping Corp as our first, and Sky Sweeping as our second, acquisition." Sky Sweeping will now operate as a component of the Sweeping Corp organization.
Headquartered in Louisville, Ohio, Sky Sweeping is a leading provider of parking lot, street and industrial sweeping, as well as several ancillary services including parking garage cleaning, special event clean-up and porter services. Servicing over 3,500 parking lots per month, Sky Sweeping management brings more than a decade of industry expertise, reliability, rapid response time and consistent customer satisfaction to the Ohio, western Pennsylvania and southeastern Indiana regions of the United States.
Chris Valerian, the CEO of Sweeping Corp, added, "We have been privileged to partner with the talented Sky Sweeping team over the past few months, and look forward to contributing to the future growth and continued success of the business over the years to come. Since inception, Sky Sweeping's focus on innovation, coupled with timely, thorough and dependable service, has created a strong foundation for success. We are very excited to welcome Sky, and its customers, to Sweeping Corp."
"Situated in central Ohio, and in close proximity to Sweeping Corp.'s new headquarters in Cleveland, Sky is a strategic initiative for the SCA platform," said Soundcore Capital's Head of Deal Origination and Principal, Erik Emmett. "As a new market-entry, this acquisition aligns with our buy-and-build approach of creating a national footprint through expansion into major metropolitan areas throughout the United States. We look forward to working with Jeff Zucal, John Zucal, and the rest of the Sky team as we continue to make strides as a unified organization."
---


Soundcore's continuing expansion into the power sweeping industry seeks major sweeping contractor companies whose management team members and/or selling shareholders wish to have a meaningful ownership stake in the newly acquired enterprise. For additional information on Soundcore Capital Partners, the company's website is www.soundcorecap.com. If you are a sweeping contractor with a potential interest in becoming part of the Soundcore/Sweeping Corporation of America expansion, there is more information at this link.