Schwarze® Industries introduces cutting-edge enhancements on the Schwarze M6 AvalancheTM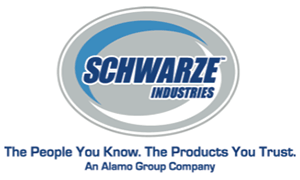 (Huntsville, Alabama) August 8, 2013 –
Attention was not only given to performance and ease of operation, but also to vastly improve the ease of general maintenance. Service tasks that may have taken hours before, now can be done in mere minutes.
The Schwarze® M6 AvalancheTM mechanical broom sweeper has earned the reputation as the premier heavy duty mechanical broom sweeper in the North American marketplace and is a heavy-duty, chassis mounted sweeper, with a 5.0 cubic yard hopper. The sweeper is available in a single-engine diesel, CNG, or twin-engine diesel model. The AvalancheTM can also be mounted on a variety of chassis models, both conventional and cabover.
Revolutionary "Easy Change Conveyer System"
The Schwarze® M6 AvalancheTM now offers the versatility of a belt conveyer, or squeegee conveyer that can be changed out in approximately 2 hours.
Sweeper Console Enhancements
The console system on the M6 AvalancheTM has received dramatic enhancements. Bright color coded LED switches, with easy to read icons and text, control the sweeper's engine, lights, conveyer, water system, hopper, main broom, gutter brooms (including down pressure), and the switches now change color to show activity.
We are also introducing the "Six Sense Controls"TM on our console system. This brighter, user-friendlier, smart, informative control system is something you have not seen before on any sweeper. If you can switch to your favorite pre-set radio station, you can now switch to your favorite pre-set sweeping settings. And we have added a stand-by mode so you are ready to sweep at any moment.
The Schwarze® Six Sense ControlsTM give the operator the ability to start sweeping with the touch of one button. The large 7" display shows the pre-set functions prior to activation, and on this condole display is where the M6 AvalancheTM truly excels.
Easy-to-read bar graphs with numeric values show you exactly what is going on with your AvalancheTM. Sweeping functions and indicators are shown in easy to understand graphics and are color coded for easy recognition.
The console system's swivel base uses much less floor space and gives you control over the complete sweeper from the comfort of either operator's seat. Four banks of eight switches, with icons and text legions, are laid out within color coded bands for easy location of the function.
Gutter Brooms Improvement
The gutter brooms on the M6 AvalancheTM have been enhanced to rear trailing arms and are now pneumatically controlled from side to side and up and down. The gutter brooms extend farther for an extended sweeping path (while sweeping on cul-de-sacs for instance) and are now mounted to the sweeper in a way that the chassis OEM fuel, DEF tanks, steps and or batteries remain tucked under the cab.
Main Broom Enhancements
The main broom is also pneumatically controlled up and down, as well as for suspension. The broom is now direct driven and needs no chains or sprockets. The pivot arm drag shoes operate very smooth as cables are no longer needed. The addition of the rear skirt, re-directs escaping debris back into the brooms.
The main broom now consists of much fewer components, making servicing a breeze. Easy curb side access to the water fill, strainer and air filter are just a few more the enhancements we have added.
Engine Compartment Redesign
The enhanced engine compartment of the M6 AvalancheTM has been completely redesigned. Hydraulics, pneumatics, electrical and water system have now all been re-located into the rear compartment. The addition of a high capacity 5 micron water filter has added extra protection to water valves and nozzles, reducing service intervals.
We have also added a stowaway ladder underneath the scissor lift for easy hopper inspection and the spray bars are now constructed from galvanized steel with brass nozzles.
Brake Interlock
For maximum safety for the operator and anyone near the equipment, the setting of the parking brake automatically shifts the transmission into neutral, and only then, allows the hopper to be raised or tilted.
---
For nearly forty years in the street sweeping business, Schwarze Industries has been committed to providing an exceptional level of customer support. Schwarze Industries offers one of the most comprehensive sweeper lines in the sweeping business, including models for parking area cleaning, industrial sweeping, mall and shopping center sweeping, airport runway sweeping, street sweeping, milling cleanup and stormwater runoff (PM-10) management and a complete line of velocity pothole patchers, featuring the, single operator/automated, Schwarze® Roadpatcher™. For additional information visit the Schwarze® website at www.schwarze.com.
THE PEOPLE YOU KNOW. THE PRODUCTS YOU TRUST.


Schwarze® stands for: Quality, Performance, Public Safety, Value and Customer Support
---
Schwarze Industries, a company of the Alamo Group, is focused on delivering high quality, innovative, high efficiency industrial sweeper products supported by friendly and efficient service.
---
For more information on Schwarze Industries, Inc., visit www.schwarze.com. You may also reach the company by calling 800.879.7933.