Schwarze Teams Up with Lafayette, Indiana to Help Clean More than Streets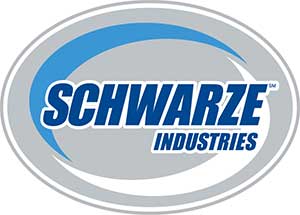 (Huntsville, Ala.) July 28, 2010 – Schwarze Industries, one of the world's largest street sweeper manufacturers, announced today that, with the help of the Water Pollution Control Department, the city of Lafayette, Indiana's Street Department has purchased two Schwarze model DXR street sweepers.
Because of its waterless and dustless design, the DXR will primarily serve as an environmentally friendly, year-round sweeping solution. But what sold the Water Pollution Control Department on helping the Street Department purchase the DXR? The fact that the DXR contains and traps very fine particulate matter, including "PM-10 fines" known to contain a high percentage of heavy metals, phosphates, and other pollutants. Pollutants, that if neglected, end up in storm water runoff and eventually in the city's sewers.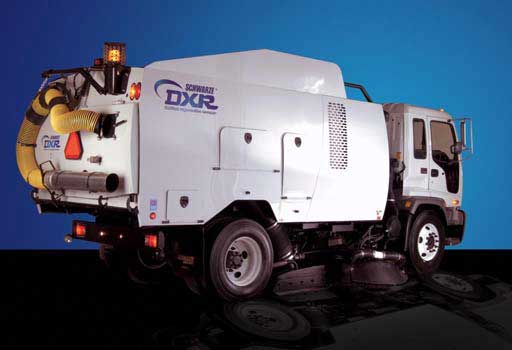 "If you don't keep the streets clean, everything ends up in the sewers and eventually our rivers, lakes and bays," said Kenny Martin, Midwest Regional Sales Manager. "Many city departments are beginning to realize that it's mutually beneficial to help each other out financially," said Martin. "Through the cooperation of the different departments and recognition of the benefit of having this equipment, everybody wins. The streets are clean, the storm drains stay clean, and you can capture materials that would have polluted the air."
Although apart of the same municipality, most cities have stand-alone budgets for each of their departments, including the city of Lafayette. And while these divisions are known for staying on their side of the rope, a joint effort between the departments of Lafayette became mutually beneficial. "It generally takes some strong leadership from the top to force these issues to happen," said Martin. "The cooperation between departments was key in making this deal.
"I'd also like to think we put a feather in our cap. We satisfactorily proved to an end user that we had a product that could help them go above and beyond what most cities ever do with this equipment."
About Schwarze Industries:
Since its inception more than 30 years ago, Schwarze Industries, Inc. has grown to become one of the world's largest street sweeper manufacturers and a leader in sweeping technology. Headquartered in Huntsville, Ala., Schwarze has a workforce of more than 200 employees, manufacturing street sweepers, parking lot sweepers and road repair units.
In 1996 Schwarze opened a manufacturing facility in Brisbane, Australia to meet the demand for products in other parts of the world. To date, Schwarze Industries' products operate in more than 35 countries.
For more information on the DXR or the Lafayette order, visit www.schwarze.com or contact Raymond Massey at 800.879.7933.