Schwarze Industries Selected for 2015 Governor's Trade Excellence Award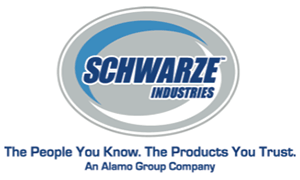 (Huntsville, Alabama) January 2015 –
Schwarze Industries is selected as a 2015 recipient of the 9th annual Governor's Trade Excellence Award. The company will receive its honor from Governor Robert Bentley on March 18th in a ceremony at the State Capitol in Montgomery, Alabama.
"We are very pleased to be recognized for our international efforts with the Governor's Trade Excellence Award," says Greg Heyer, Schwarze Vice President of Sales, Marketing, Customer Service & Product Management. "International sales continue to be an important part of Schwarze's business."
Presented by the Alabama Department of Commerce and the Export Alabama Trade Alliance, the Governor's Trade Excellence Award recognizes companies in Alabama that excel in overseas sales and service. The objectives of the program are to identify the state's successful and innovative exporters, promote them as role models to encourage increased involvement in the global marketplace, and develop awareness of how exporting impacts Alabama's economy.
"Alabama products are among the best in the country, and the companies recognized show how successful Alabama products are reaching the global marketplace," Governor Bentley says. "The Export Alabama Alliance is connecting Alabama companies with exciting new opportunities and that's good business for this state."
---
For forty years in the street sweeping business, Schwarze Industries has been committed to providing an exceptional level of customer support. Schwarze Industries offers one of the most comprehensive sweeper lines in the sweeping business, including models for parking area cleaning, industrial sweeping, mall and shopping center sweeping, airport runway sweeping, street sweeping, milling cleanup and stormwater runoff (PM-10) management and a complete line of velocity pothole patchers, featuring the, single operator/automated, Schwarze® Roadpatcher™. For additional information visit the Schwarze® website at www.schwarze.com.
THE PEOPLE YOU KNOW. THE PRODUCTS YOU TRUST.


Schwarze® stands for: Quality, Performance, Public Safety, Value and Customer Support
---
Schwarze Industries, a company of the Alamo Group, is focused on delivering high quality, innovative, high efficiency industrial sweeper products supported by friendly and efficient service.
---
For more information on Schwarze Industries, Inc., visit www.schwarze.com. You may also reach the company by calling 800.879.7933.