Schwarze® Industries announces an enhanced SuperVac Gale Force sweeper.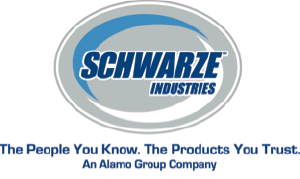 (Huntsville, Alabama) February 2016 –
The new design of the Schwarze Gale Force combines the functionality and performance elements contractors of all experience levels are looking for with the design and attention to detail that contractors need to attract and retain customers.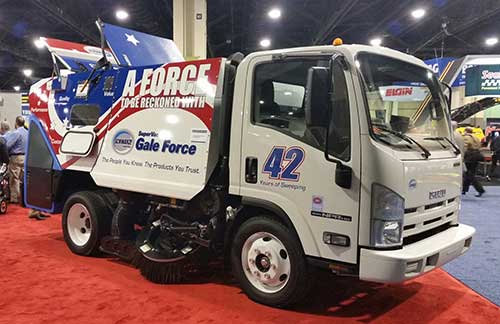 The redesigned SuperVac Gale Force builds on the Schwarze portfolio of parking lot sweeper products, and includes:
67.6 Horse Power @ 2500 RPM Yanmar Tier 4 Final engine (4TNV98C-NYEM)
Electronic throttle (Rocker switch replaces bulky lever)
Gauges with trouble code display
Dump height over 6 feet (77")
Heavy chain intake baffle (slows debris as it enters hopper)
High capacity hopper intake screen
Separate dump and screen cleanout doors (With optimal door seals on a flat door face)
Screen cleanout door fitted with a lever to open and prop door from ground level.
Dump door has dual hydraulic cylinders with sequence and pressure reducing valves.
Adjustable dump door hinges (always a perfect and even fit of the door)
Built-in dual rear hopper strobe lights.
C12 Stainless Steel standard, with a discounted carbon steel option.
And an optional shroud with sound attenuating foam inner liner.
The Gale Force comes in two configurations:
A diesel chassis with a 132" wheelbase for reduced wear on tires, allows for a dual broom option and makes room for up to 175 gallons of water. A gas chassis with a 109" wheelbase for increased maneuverability, can be fitted with a dual broom option and can carry up to 110 gallons of water.
"The new enhanced SuperVac Gale Force is a perfect blend of functionality and affordability and continues our commitment to innovations while increasing our ability to meet the power needs of a wider variety of applications," says Greg Heyer, Vice President of Sales, Marketing, Customer Service & Product Management at Schwarze. "It delivers all the performance one expects from a Schwarze sweeper, and allows contractors to incorporate a highly productive sweeper into their fleet at an economical price point."
The SuperVac Gale Force will be available for shipping in March 2016.
---
For forty-two years in the street sweeping business, Schwarze Industries has been committed to providing an exceptional level of customer support. Schwarze Industries offers one of the most comprehensive sweeper lines in the sweeping business, including models for parking area cleaning, industrial sweeping, mall and shopping center sweeping, airport runway sweeping, street sweeping, milling cleanup and stormwater runoff (PM-10) management and a complete line of velocity pothole patchers, featuring the single operator/automated, Schwarze® RoadpatcherTM. For additional information visit the Schwarze® website at www.schwarze.com.
THE PEOPLE YOU KNOW. THE PRODUCTS YOU TRUST.
Schwarze® stands for Quality, Performance, Public Safety, Value and Customer Support
---
THE PEOPLE YOU KNOW. THE PRODUCTS YOU TRUST.


Schwarze® stands for: Quality, Performance, Public Safety, Value and Customer Support
---
Schwarze Industries, a company of the Alamo Group, is focused on delivering high quality, innovative, high efficiency industrial sweeper products supported by friendly and efficient service.
---
For more information on Schwarze Industries, Inc., visit www.schwarze.com. You may also reach the company by calling 800.879.7933.