Schwarze Industries Set to Offer New Line of Hydraulic Road Brooms
(Huntsville, Alabama) January 25, 2011 – Schwarze Industries announced today that the company will be showing a new range of trailer and road brooms at the upcoming National Pavement Expo in Nashville, Tennessee, February 3-5, 2011.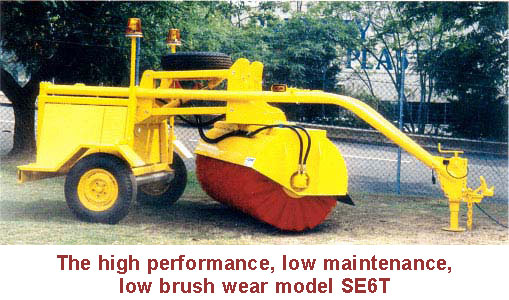 Schwarze Industries recently purchased the product line in Australia and will now begin marketing a wide range of road brooms, tractor brooms and trailer brooms as Bonne Sweepers (www.bonne.com.au). Manufacturing in the states is set to begin soon at Schwarze's Huntsville, Alabama, facility.
"One of our most popular models, the SE6T, comes with wireless control for start/stop, raise/lower, broom speed and broom angle," explained Malcolm Cameron of Schwarze Australia. "They can be pulled with a normal pick-up at highway speeds reducing travel time to the job site."
The product line also includes tractor brooms used on asphalt re-surfacing and milling, industrial sites and construction cleanup. While immediately available in Australia, the entire product line will be introduced into the US market in 2011.
About Schwarze Industries:
Since its inception more than 30 years ago, Schwarze Industries, Inc. has grown to become one of the world's largest street sweeper manufacturers and a leader in sweeping technology. Headquartered in Huntsville, Ala., Schwarze has a workforce of more than 200 employees, manufacturing street sweepers, parking lot sweepers and road repair units.
In 1996 Schwarze opened a manufacturing facility in Brisbane, Australia to meet the demand for products in other parts of the world. To date, Schwarze Industries' products operate in more than 35 countries.
For more information on Schwarze or the new line of brooms, visit www.schwarze.com, www.bonne.com.au or contact Malcolm Cameron via email sent to: malcolmcameron@schwarze.com.au.