Schwarze® Industries hires Brian Giles as Product Manager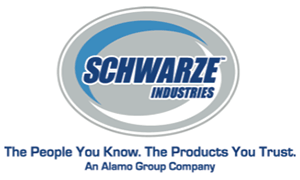 (Huntsville, Alabama) January 6, 2014 –
Schwarze Industries is pleased to announce the arrival of Brian Giles as Product Manager, beginning Monday, January 6. Brian Giles previously worked at Elgin Sweepers for over 15 years where he was Product Manager as well as other product and marketing roles.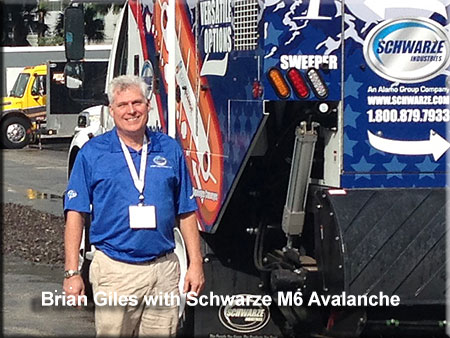 Brian has a broad background in mechanical sweepers, industrial equipment markets and government bid markets and is a graduate of Northern Illinois University. Giles will report to Greg Heyer, Vice President of Sales, Marketing, Customer Service & Product Management and Brian and his family will be relocating to the Huntsville, AL area in the near future.
"We welcome Brian and know he will be a great asset to the team with his broad knowledge and experience in the sweeping industry," said Greg.
Editors Note: Giles first became known personally to me when I was the editor of American Sweeper magazine over a decade ago. That's when I covered the Junkyard Wars television segment that pitted two teams of sweeper builders, headed up by Giles of Elgin and Jim Adair of Schwarze, that each built sweepers from junkyard components. If you want to revisit one of the more interesting and off-beat events in the annals of sweeping, we suggest you take a look at our online archive coverage of the event from that time. Interestingly, Adair and Giles will now be on the same team of sweeper builders.
---
For forty years in the street sweeping business, Schwarze Industries has been committed to providing an exceptional level of customer support. Schwarze Industries offers one of the most comprehensive sweeper lines in the sweeping business, including models for parking area cleaning, industrial sweeping, mall and shopping center sweeping, airport runway sweeping, street sweeping, milling cleanup and stormwater runoff (PM-10) management and a complete line of velocity pothole patchers, featuring the, single operator/automated, Schwarze® RoadpatcherTM. For additional information visit the Schwarze® website at www.schwarze.com.
---
THE PEOPLE YOU KNOW. THE PRODUCTS YOU TRUST.


Schwarze® stands for: Quality, Performance, Public Safety, Value and Customer Support
---
Schwarze Industries, a company of the Alamo Group, is focused on delivering high quality, innovative, high efficiency industrial sweeper products supported by friendly and efficient service.
---
For more information on Schwarze Industries, Inc., visit www.schwarze.com. You may also reach the company by calling 800.879.7933.