Schwarze Industries Introduces Free Extended Sweeper Engine Warranty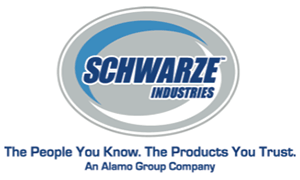 (Huntsville, Alabama) April, 2017 –
Schwarze Industries announces the introduction of a free 5-year/5000-hour extended warranty program on its A7 Tornado, A8 Twister, and the A9 Monsoon sweeper engines.

This program, available through Schwarze's extensive sweeper dealership, provides coverage of all sweeper engine components and applies to new John Deere Tier 4 propulsion engines installed after March 31, 2017, through December 31, 2019.
"We are very pleased to offer this to our customers. It provides another level of customer confidence and further builds upon Schwarze's strong reputation of performance, durability and reliability," said Greg Heyer, Vice President of Sales, Marketing, Customer Service & Product Management.
"We believe that this free 5-year/5,000-hour extended warranty will provide our customers with additional value and years of worry-free sweeping."
This extended warranty is portable and transferable and covers reasonable travel expenses for John Deere service dealers so that you can get help virtually anywhere in the United States and Canada. For more information about this extended warranty and a list of qualifying sweeper models, contact your local Schwarze dealer or call Schwarze direct at 1.800.879.7934.
For over forty-three years in the street sweeping business, Schwarze Industries has been committed to providing an exceptional level of customer support. Schwarze offers one of the most comprehensive sweeper lines in the sweeping business. For additional information visit the Schwarze website at www.schwarze.com For additional information visit the Schwarze® website at www.schwarze.com.