Schwarze Industries Marks 40th Anniversary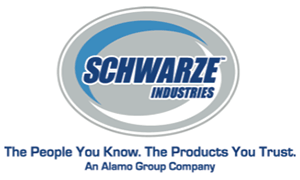 (Huntsville, Alabama) February, 2014 –
Schwarze Industries is pleased to announce that 2014 marks the company's 40th anniversary.
Founded in 1974, Schwarze Industries, back then just an Alabama sweeping contractor, wanted to provide contractors with a type of customer experience that was innovative in the sweeping industry. In the interim, the company has evolved into an industry-leading manufacturer with a global presence.
The company's main factory is located in Huntsville, Alabama, but it also has an assembly facility in Brisbane, Queensland, Australia, which they opened in 1996. This Australian facility not only serves Australia but also the New Zealand, and some Asian and South African markets. This has allowed Schwarze Industries to meet customers' specific local needs and expectations.
In 2000 Alamo-Group, a Texas-based corporation that specializes in the design, manufacture, distribution and service of high-quality equipment for right-of-way maintenance and agriculture, acquired Schwarze Industries, Inc.
The Schwarze® product line was a great fit with Alamo-Group's strategy of identifying product offerings with good brand recognition in the industrial marketplace. Its products were a good compliment to Alamo's because in many cases they were selling to the same end users and felt this combination would strengthen the total market share and brand equity of both companies.
By joining forces with Alamo Group, Schwarze was able to increase its penetration of the governmental market and expand its geographic reach. In addition to the obvious market synergies, it was also be able to preserve the close relationships they had built with its customers and employees.
---
During the past 40 years Schwarze has been committed to providing an exceptional level of customer support and today, Schwarze Industries offers one of the most comprehensive sweeper lines in the sweeping industry, including models for parking area cleaning, industrial sweeping, mall and shopping center sweeping, airport runway sweeping, street sweeping, milling cleanup and stormwater runoff (PM-10) management and a complete line of velocity pothole patchers, featuring the, single operator/automated, Schwarze® RoadpatcherTM. For more information on Schwarze Industries, Inc., visit www.schwarze.com. You may also reach the company by calling 800.879.7933.