Nite-Hawk Sweepers Unveils CNG Prototype Sweeper at 2012 NPE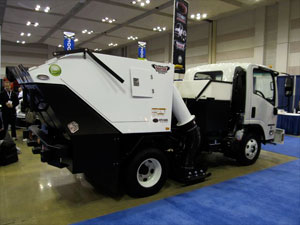 At the recent 2012 National Pavement Expo in Memphis an exciting peek into the future of parking lot sweeping was provided by Nite-Hawk Sweepers.
Nite-Hawk Sweepers – March 22, 2012
Nite-Hawk Sweepers, the well-known Washington-based sweeper manufacturer, brought to NPE an all-new concept sweeper built to operate on compressed natural gas, commonly called 'CNG.'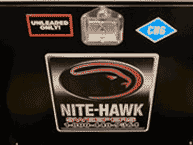 Based on the company's popular Raptor model, the single-engine prototype CNG sweeper on display offered dual-fuel capability; the sweeper was equipped to operate either on CNG or gasoline. At the NPE show, Nite-Hawk Marketing Director Jake Hoerman stated "We are very excited about the prototype unit, look forward to the continued development process and are eager to release more details in the future concerning our CNG parking lot sweeper."
CNG is natural gas under pressure, which remains clear, odorless, and non-corrosive. Although vehicles can use natural gas as either a liquid or a gas, most vehicles, including the Nite-Hawk Raptor, use the gaseous form compressed to pressures above 3,100 pounds per square inch. For more information on CNG as a transportation fuel, check out the information at the California Energy Commission's Consumer Energy Center website.
In California, CNG-powered street sweepers have, in some geographic locations, been mandated for the last several years. However, the prototype Raptor is the first instance of a CNG-powered parking lot class sweeper. If you want to compare cost of operation for a sweeper using CNG instead of gasoline or diesel, take a look at the website CNGPrices.com.
Expect to see complete coverage and information about Nite-Hawk's new CNG sweeper model in an upcoming edition of WorldSweeper's newsletter and on the WorldSweeper website.
For more information about Nite-Hawk Sweepers, go to www.nitehawksweepers.com. The company's general email address is info@nitehawksweepers.com; contact them via phone by calling 800-448-9364.
---
Editor's Note: If you have more information about this story, please let us know. If appropriate, we'll add it to the bottom of this page.
---