Startup NewGen Sweepers Targets Market for Smaller Sweepers
May 16, 2014
NewGen Sweepers seeks niche in marketplace for smaller sweepers.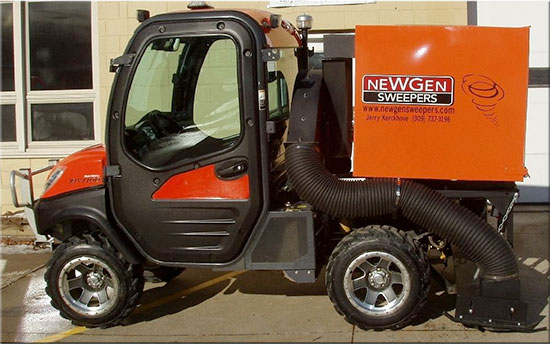 ---
The idea for NEWGEN Sweepers belonged to industry veteran, Dale Claxton. He has been involved with the sweeping industry since August of 1984, first as a sweeping contractor and then as the designer / manufacturer of the now discontinued Scorpion parking area sweepers. For this article, I spoke to Claxton to get background information on the sweeper he designed and that is now being marketed as the NewGen Sweeper.
"The idea all started about 3 years ago," said Claxton. "I started in the sweeping industry as a contractor in August of 1984. I've been there, using a backpack blower, sweeping parking lots all night, drinking coffee by the bucket and eating potato chips by the bag full to stay awake. I also did all my own sweeper maintenance and repair work in the beginning. I started building my own sweepers for my own business in 1989. As a result, the NEWGEN sweeper has years of engineering knowhow behind it.
"I believe that though the years the sweeping industry has changed for the worst. When I got into it you could buy a brand new, 1-ton vacuum sweeper for roughly $25,000. Sweeping jobs averaged $50-to-$60/hour, which was good money back in the '80s. Fuel was $.80-a-gallon. (Editor's Note: The equivalent of $100 in 1980 is approximately $233 in 2014 dollars.)
"However, today's 1-ton sweeper costs $60,000+ and fuel is at least $3.50 a gallon. You have fancier trucks and better fuel economy but the same sweeping jobs have dropped to $25/hour because of the economy and cheap competition. Cheap competition seems to pop up in every city across America. Now, everyone promises to do more for that cheaper price. Once this cheaper competition beat a realistic and fair price downward, the property managers seems to believe that's the going price from now on. In my view, it has become very difficult to make a reasonable wage, with that competitive pressure combined with these crazy truck, insurance, fuel, tires and maintenance prices.
"As I see it the sweeping industry needs an affordable sweeper that is reliable for daily use. The NewGen Sweepers have the same sweeping ability as the truck-mounted units, but has the brand new cost of operation down to a minimum. The NewGen is the first and only vacuum sweeper that's mounted on a UTV (utility truck vehicle). Users have found that the NewGen can do the sweeping jobs while lowering costs of operation and putting cash back in a contractor's pocket."
Here are some example specifications: The NewGen Sweeper on the American Sportworks LM/TW 400 chassis has a 1.2 cubic yard hopper, which is made from diamond-plate aluminum hopper with a 58" dump height. The vacuum for the pickup system is generated via a belt-driven, 22", 8-bladed turbine fan system. The suction tubes are 9" in diameter. Power for the ATV is a Honda GX390 and the sweeper power is generated by a 25 hp Kohler EFI auxiliary engine.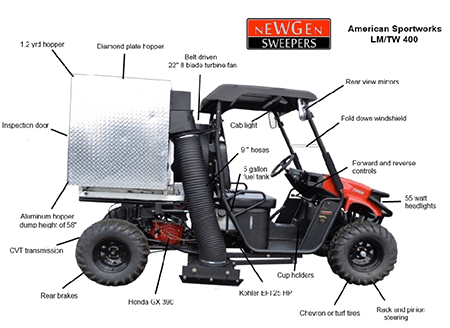 Claxton believes the NEWGEN is a viable replacement for a standard, truck-mounted sweeper although it does need to be trailered from job-to-job. As advantages, he cites that the NewGen can do 90% of everything a truck-mounted sweeper can do. Plus, it can maneuver in tight places, drive on sidewalks, and it's more simple to operate. However, he believes it will be best received for theme parks, universities, hospitals, state parks, stadiums. Raceways, truck stops, rest areas and home owner's associations are also on the company's 'low hanging fruit' list.
Municipalities, he also asserts, will find the machines useful for specialty sweeping like bike paths and small area sweeper. Basically, for all the uses that truck-mounted sweepers are used less because they are more expensive to own.
In terms of marketing, Illinois-based Jerry Kerckhove has taken over marketing and production of the machines. Because Kerckhove is situated a couple hours west of Chicago, he is also centrally located in the United States marketplace. Claxton says Kerckhove got involved in NEWGEN because he has some health issues, as well as is taking care of his parents, both of whom are in their 80s.
Kerckhove has manufacturing experience as a producer of ATM trailers like are seen at carnivals and outside shows. He is also a sweeper owner and has been a sweeping contractor for over 25 years. Jerry has taken NewGen Sweepers to the next level by adding two new chassis models for the sweepers, the John Deere 825 and the Kubota RTV 1100.
These are added to the chassis Claxton initially used, the American Sportworks 400 and 650. Now all four units have the same fan, fan housing and sweeping head. Depending upon the chassis, the hopper size and chassis and auxiliary engines vary. To view a slideshow of the sweepers, use this link (Opens into a new window).
The company may be reached by calling 309-737-3196. Their website is located at www.NewGenSweepers.com.
---