Scott Graby, Hearthstone Group, Named by NPE as Top Sweeping Contractor for 2014
(Nashville, Tennessee) January 2015 –

The Hearthstone Group has developed from the house cleaning service started by Sandra Graby in 1983. A sideline hobby for her and her husband, Scott, was investing in real estate. As commercial properties were added to their portfolio, about 15 years ago it simply made sense to expand the company into a full-service property management firm.

Power sweeping was added early on as a natural expansion for the company's slate of services. Today, The Hearthstone Group (THG) has a fleet of 40 vehicles that provide services not only the couple's own properties, but also those of a wide array of commercial clients.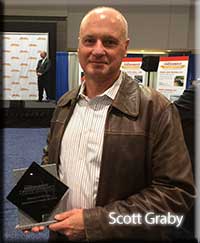 Nashville-area based The Hearthstone Group (THG) was honored at the 2015 National Pavement Exposition as the winner of the organization's award for top sweeping contractor in the United States. Receiving the award for THG was Scott Graby, the company's president.
WorldSweeper.com is proud to offer exclusive video of the award ceremony, at which Scott Graby received the award from Amy Schwandt and Allan Heydorn, two senior members of the NPE's organizing and production team. You may view the brief video using the link shown below.
The Hearthstone Group was also featured in June of 2014 as the WorldSweeper.com/World Sweeping Association's Featured Contractor of the Month. As a result of that interview, THG was also named a finalist for the WorldSweeper.com's annual Award of Excellence in Power Sweeping. This is because of the many innovations Hearthstone has developed and employed throughout the company. These are discussed in the WSA feature article, which is linked below.
Although the story would, after this amount of time, normally be password-protected for the exclusive viewing of World Sweeping Association Members, as a courtesy the article is being made available at this link. Note the article includes a link to a 40-minute audio podcast interview held with Scott Graby by Ranger Kidwell-Ross, who is editor of WorldSweeper.com and executive director of WSA.
---
For more information or to contact Scott Graby, use the contact information link at the company's website, www.hearthstone.net.