January 14, 2010
National Pavement Expo Returns to Nashville

Annual event gives pavement professionals solutions their business can run with.
The National Pavement Expo (NPE) is pleased to return to the Nashville Convention Center this January 20-23. Because of its nationally recognized conference, a packed exhibit hall and unprecedented networking opportunities, thousands of paving and pavement maintenance professionals rely on NPE as an annual educational and purchasing resource.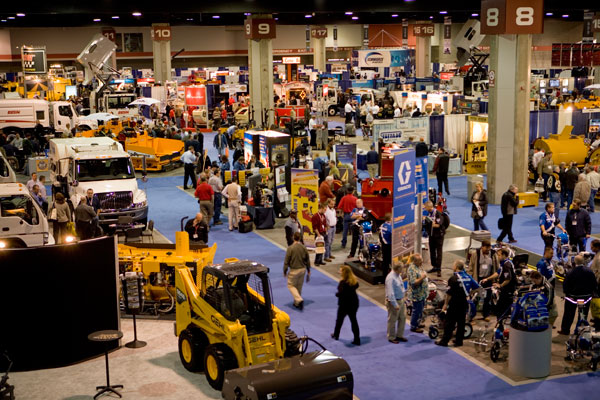 NPE offers seminar tracks and workshops created specifically for all segments of the paving and paving maintenance industry: sealcoating, striping, paving and sweeping. In addition NPE works closely with the North American Power Sweeping Association (NAPSA) to develop conference sessions for contract sweepers. Among this year's NAPSA-related sessions are:
Time-Saving Solutions for Managing Your Electronic Office
How Tire Selection and Maintenance Impacts Your Bottom Line
"Accident Readiness" for Your Drivers
2010 "Best Practices" for Contract Sweepers
In addition NPE and NAPSA will host Kraig Kramers, Corporate Partners Inc., presenting a keynote address titled "The CEO's Tool Kit: Putting to Use What You've Already Learned." The keynote is sponsored by Tymco, and NAPSA members can attend this three-hour workshop for $50; non-NAPSA members can attend for $129.
Visit www.nationalpavementexpo.com for session descriptions and a complete listing of all 52 seminars.
After attending conference sessions, professionals can find the tools required to put their knowledge to use on the exhibit floor. Manufacturers, dealers, and distributors will display a wide array of products and services that serve striping, sealcoating, paving, cracksealing, and sweeping professionals. With the industry's best products and services are under one roof, the buying process is shortened – saving everyone time and money!
Also free with exhibit hall admission are Industry Roundtables designed for sealers, stripers, pavers and sweepers and Network Night, sponsored by 1-800 Pavement.
NPE is sponsored by Asphalt Contractor and Pavement Maintenance and Reconstruction magazines and is scheduled for January 20-23, 2010 at the Nashville Convention Center. For more information on how NPE can benefit you and your business, please visit www.nationalpavementexpo.com or call 800.827.8009.
---
If you have a question or comment about this article, please let us know. If appropriate, we'll add it to the bottom of this page.
---