Mystic Washer® Now Offering Indoor/Outdoor and Water Reclamation Models
(Placida, Florida) December 2013 –
New models offer indoor/outdoor cleaning with or without water recapture.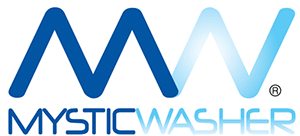 Placida, Florida; December 2013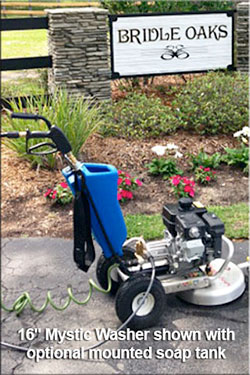 Mystic Washer has announced several additions to its line of all-in-one pressure washers designed for more efficient and cost-effective flat surface cleaning. The product line is designed and manufactured by Clayton Boyd, who for 28 years was a prominent Chicago sweeping and pressure washing contractor known as 'The Sweeping Doctor.'
"When I retired as a successful sweeping contractor I knew exactly what I wanted to do with the rest of my business life," said Boyd. "My intent was to design and manufacture the flat-surface pressure washer I always wished was available during my many years of cleaning sidewalks and entranceways for my customers.
"In our five years of operation, contractors and end-users alike have documented the time-savings and superior cleaning ability of our outdoor Mystic Washer line. For example, the head of maintenance for the Salvador Dali Museum in St. Petersburg, Florida, documented a weekly reduction in pressure washing hours by his maintenance team from 10 hours/week to around two hours/week. And, he further cites better cleaning results and being able to utilize just a one-person crew.
"However, we have had many requests to bring the technology indoors. To meet that need, we have now engineered several indoor Mystic Washer configurations and the results are game-changing. We believe our new 16" standard electric-powered Mystic Washer model, and two models of 15" electric wastewater recapture machines, will revolutionize how floor cleaning is done in a variety of industries. In addition to inquiries from maintenance professionals, we have received interest from the hotel/motel industry, restaurants, grocery stores, food processing facilities and more. It's clearly a better way to clean interior floors, including bathrooms and food prep areas. Plus, the indoor machines can be used to clean outside entranceways, sidewalks and the like, as well."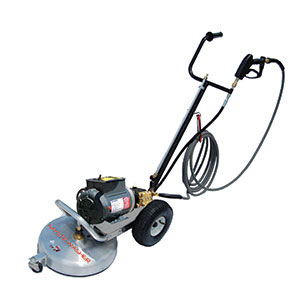 The new electric Mystic Washer models are powered by a single-phase industrial electric motor running on 115-volt power. The electric-powered Mystic Washers are offered with either a 13-amp (1.5hp) or an 18-amp (2.0hp) motor. These offer cleaning at 2gpm @ 1200psi and 2gpm @ 1500psi, respectively.
Both the 16" standard unit and 15" water recapture model have the same motor and pump configuration; however, the cleaning width of the recapture machine is an inch less to accommodate the twin-wall deck needed for the water recapture system.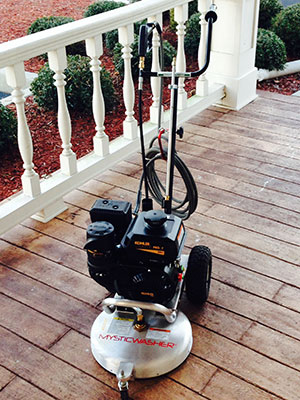 The new 16" gasoline-powered model offers cleaning at 3gpm @ 2700psi using a Kohler 208cc or optional Honda GC190 engine. Optional engine and pump configurations up to 4000psi are available.
Like their larger counterparts, the electric Mystic Washer models are designed to get their water supply from either a standard hose outlet or hot or cold water faucet. There is no need for an exterior water tank, although one may be used for a water source if need be. In most usage, nothing more than a water supply and an electrical source is needed. And, unlike the gasoline-powered Mystic Washer line, in addition to being used on sidewalks, entranceways and the like, the electric models may also be used on interior floors in customer spaces, food prep areas, restrooms, etc.
Where a drain is present, wastewater may simply be directed down the drain using the Mystic Washer's attached spray wand. The spray wand also allows all Mystic Washer units to be used as a standard pressure washer, providing versatility for cleaning walls and other vertical surfaces. Where indoor drains are not present and dirty water recapture is needed, several wastewater pickup methods are available.
This can be done with the standard, non-recapture, model with the addition of an inexpensive Wet/Vac designed for both water intake and discharge. By using a squeegee attachment, water may be collected and then pumped out to a sink, drain or toilet.
However, Mystic Washer's electric recapture models are designed to be 'hard line attached' to a Wet/Vac or other vacuum system for direct collection of up to 98% of the water generated by cleaning. This system revolutionizes the inefficient mopping – or use of an expensive floor scrubber – that many organizations now employ for interior floor cleaning. The Mystic Washer has a built-in soap injector system for greasy areas and may be hooked directly to hot tap water up to 160-degrees.
In addition to the new electric Mystic Washer 16" standard and 15" recapture models, the company also makes standard gasoline-powered models designed for outdoor usage in 24" and 30" cleaning widths. In addition, a 24" gasoline-powered recapture model is available. As an adjunct to each model's rated psi, all are outfitted with pressure reduction dials that allow reduced pressure for cleaning of surfaces like wood decks, bricks, pavers, etc.
For more information, call 855-8-MYSTIC (855 869-7842), send email to info@mysticwasher.com or visit the company's website, www.mysticwasher.com.
---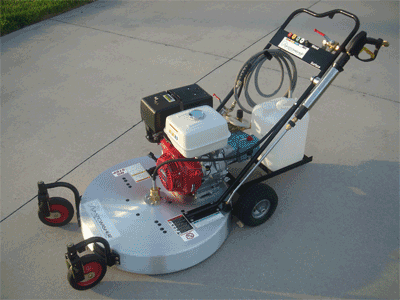 Mystic Washer flat surface cleaners are manufactured by WaterWorks Connection, located in Placida, Florida. The manufacturer, Clayton Boyd, has been involved in the power sweeping, pressure washing and property maintenance business for over three decades. During that time, he has seen that cleanliness ranks as a top factor in determining where people live, dine, shop and play.

All Mystic Washer models need only one person to operate and maximize valuable operator time. All are designed to produce consistent quality and, at the same time, cut cleaning time by as much as 60% to 80% compared to a standard pressure washer – all while eliminating operator fatigue.