Exprolink's Madvac Sweeper Line Awarded NJPA Contract
Exprolink, Inc. has announced that its Madvac sweeper line has been awarded an NJPA Cooperative Purchasing Contract. The contract became effective February 20, 2018.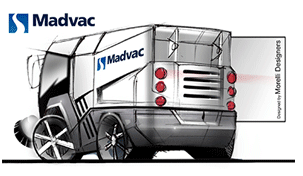 The National Joint Powers Alliance is a national cooperative based in Minnesota. The intent of the organization's efforts is to simplify and improve the purchasing process for its members and widen its customer base throughout the United States and Canada through added product visibility and ensuring a 'best prices scenario' for the products it certifies. Exprolink, which is based in Quebec, Canada, was awarded an NJPA contract (vendor contract number #122017-EXP) with jurisdiction throughout the U.S. and Canada.
The award means that Exprolink and its Madvac product line now have the status of "NJPA Awarded Contract Vendor." To view the company's letter of acceptance as a pdf file, click here. For more information and contract pricing, contact George Bally, Exprolink's Marketing Manager for Madvac in the USA and Canada. Toll free phone or email at 1.855.884.0296, and gbally@exprolink.com The company's website is www.exprolink.com.

About National Joint Powers Alliance
NJPA's cooperative contract purchasing leverages the national purchasing power of more than 50,000 member agencies while also streamlining the required purchasing process. As a public agency, NJPA establishes and provides nationally leveraged and competitively solicited purchasing contracts under the guidance of the Uniform Municipal Contracting Law. Joint Powers laws enable members to legally purchase through their awarded contracts. As a service cooperative, NJPA is a governmental unit of the State of Minnesota, all NJPA employees are government employees.
NJPA is governed by an eight-member board made up of county commissioners, city council members, mayors, or school board members. Membership with and participation in NJPA programs is free and available to all education and government entities, as well as nonpublic schools and nonprofit organizations.
---