Remembering Tony Libhart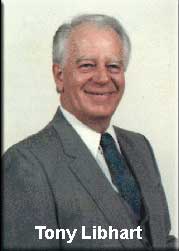 Anthony "Tony" Libhart devoted his working life to improving air sweeper technology.
by Ranger Kidwell-Ross (with information from Bonnie Libhart)

Remembering Tony Libhart – January 31, 1935 – October 23, 2012
Long-time sweeper engineer extraordinaire, Tony Libhart, passed away on the morning of October 23rd, 2012. Tony made his mark in the sweeping world early on as one of the principal designers of one of the most successful air sweeper designs ever, the TYMCO model 210.
Tony later founded Aaplex Sweepers, before selling that company to Schwarze Industries in late 1987. At that point, Tony also became Schwarze's Chief Engineer, a position he held at the time of his death.
I first met Tony Libhart in early 1988 on the day he sold his company, AAPLEX Sweepers, to Schwarze Industries, Inc. At the time, I was working as a business consultant in Huntsville, Alabama, and was hired by Mark Schwarze, then vice-president of Schwarze Industries, to handle publicity and promotion for the business acquisition.
I was also asked to write a story about the purchase of AAPLEX, and to use it as the lead for a new newsletter for sweeping contractors. Thus was born the 1st edition of The Supervac Quarterly. Here is a link to that story on the front page of the initial publication. This publication was my first writing effort in the power sweeping industry.
As time went on, I started doing more and more work for the Schwarze organization, in addition to the quarterly newsletter editions. As a result, I had the opportunity to get to know Tony and, ultimately, his wife, Bonnie, pretty well. It was a friendship I value to this day.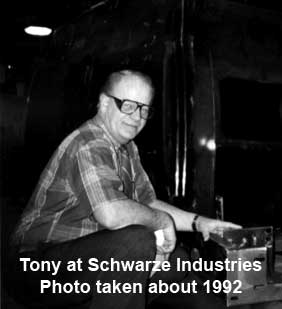 Even as a newcomer to the sweeping industry, I could see that bringing Tony onboard was an asset to the Schwarze organization. Others in the firm talked about the technical expertise and design ideas that originated with Tony.
Since I didn't know much about how sweepers operated back then, Tony was one of my 'go to' guys when I needed an explanation of some sort. Plus, when I went to his office to ask questions Tony was always ready and capable to provide answers – and you could almost always count on him offering to share the snacks he would have on his desk or somewhere nearby.
Tony Libhart's Aaplex sweeper design ultimately became the highly regarded Schwarze A7000 model. From there, a number of other models were developed using Libhart's design expertise. These included the Schwarze models A4000, 220, 222, 44 Magnum and more.
In the mid-90s I moved to Washington State and started American Sweeper magazine, which was also sponsored by Schwarze Industries, Inc. Even though separated by distance, Tony and I maintained a strong industry relationship since he remained a key individual I could count on to make sure I got air sweepers stories right.
Whenever we talked, in addition to getting the information I needed – almost always without him having to look anything up – Tony would have some sort of humorous anecdote to pass along. His jokes, when he told them, were invariably 'clean' and didn't rely on degrading punch lines, something refreshing in today's world.
Although I have had less reason to contact Tony as the years have gone by, when I learned of his failing health a few months ago I tried several times to schedule an interview with him so we could archive his story in audio for posterity. Unfortunately, we could never find the right timing between Tony's increasing health challenges.
The following information is taken from the obituary written by his wife of many years, Bonnie. Following that you will find links to a two-part audio interview about Tony Libhart. The first portion, reminiscing about Tony's early years in sweeping, was conducted with TYMCO president, Kenneth Young. After that you will hear Victory Sweepers' president, Mark Schwarze, remembering the Tony Libhart he met and worked with when his Dad's company, bought out Aaplex in 1988.
From Tony's Obituary: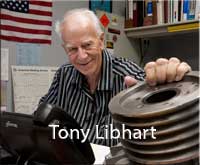 Tony started his journey in Marietta, Lancaster County, Pennsylvania, on January 31, 1935. He is one of 6 boys born to John Henry Libhart & wife Emily Elizabeth (Jones) Libhart. In 1919 Tony's father John opened "Libhart Garage."
Tony rode his bike to school every day and walked to church every Sunday. Tony had a mischievous sense of humor. One day during school he put cap pistol shots between the teacher's desk so when she sat down it exploded. She looked up at the class and said "Tony is the only who could figure this out." When he got home after school, his teacher was already at his home telling his parents. His strict parents made sure it was the last time he pulled THAT prank.
The Lutheran Minister came and asked his mother if Tony could go to the Seminary. He said he would pay all costs for college. She replied, "You must ask Tony." Instead, Tony wanted to go to Penn State and study engineering. That's what he did, paying his way through college building Class B racing boats.
After graduating from Penn State, a Marine recruiter informed Tony he should expect a letter from the draft board in the next couple days. Tony joined the Marines that very day. He was first sent to Parris Island, then Camp Jejune and later to Memphis, TN, where he ended up traveling all over the country with the Marine Corp Band marching in parades.
Tony was also stationed in Cherry Point, NC where he was an instructor for the link trainer and taught pilots to fly. He was awarded a Meritorious Mast, for figuring out the flight simulator. No one else could decipher the circuitry so quickly. He was awarded another Meritorious Mast, plus Sharp Shooter. During Tony's service in the Marines he also met his partner for life, Bonnie Taylor-Baird. They were married in the Jackson Avenue Church of Christ and have been together ever since.
Tony and Bonnie had 25 wonderful years together (not bad out of a 54-year of marriage – lol). They had three children, two girls and a boy.
Tony was a hunter and fisherman, a Charter member of Jaycees and a Regent at Oxford Graduate School. He was also a lay preacher, seminar leader and Toastmaster. In Ohio he hosted a radio program and was active in Little Theatre. He's been on the Building committee, in Lancaster church of Christ and Treasurer, plus Vacation Bible School Leader and gave his life for Jesus.
Tony was quite an inventor. While he worked with DeWalt, Inc., he was awarded the first of many US patents. During his time at Colson Company he designed the brake on the isle food service cart on the 747 Boeing airplane. You can thank Tony if you ever see the food cart come down the aisle of a 747 and, should the plane hit an air pocket and drop a couple hundred feet, you will discover that the food cart will stay right where it is. The brake is his invention.
Many of the innovative features of the model 7000 street sweeper were developed when he and the family owned the Aaplex manufacturing plant in Little Rock, AK. He received patents for many of these inventions and licensed his design to Schwarze Industries, Inc. (now a part of the Alamo Group) They continue to make and sell his sweeper all over the world to this day.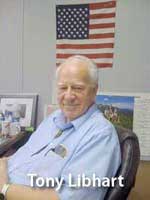 His grandson David said, "He was an inventor, and artist, a designer, and a man that turned raw materials into machines that benefited the greater good of the human race. His vision was one that kept our earth clean. He told me one time that he could shape and mold materials in his mind as if he were playing in a sand box. A modern day polymath, he had an answer for every question I could think of.
"Without flair he spoke direct and to the point. He loved his family and did more for me that anyone ever has. When I did stupid things he was there to bail me out and never passed judgment; he was always on my side. He had a sense of humor like no other, I'll never forget the long-winded jokes that seemed to go on without a punch line as if he was waiting on you to break down, as slapstick as it gets. I love you Grandfather. May you rest in peace!"
Note: The combined reminiscences by Kenneth Young and Mark Schwarze are 31 minutes in length. Expect to learn about the earlier days of power sweeping industry, along with Tony Libhart's place in it. To listen to the audio recording, click this link or on the small triangle inside the circle you see to the left. If you have any trouble accessing this audio, please let us know.
If you have remembrances of your own, let us know. If appropriate, we'll amend your comments to the bottom of this article.

---
In late 2018 we received this from Clifton A. Goerisch, who was the welding foreman at Aaplex Manufacturing, which was purchased by Schwarze Industries, Inc., in 1988.
"Tony designed the first dump bed hopper that fit on a Toyota frame. I'm the one that built it and did all the welding on it. I really enjoyed working with Tony. He was a very intelligent man. The way he could think about something in his head and well I used to get my blueprint off the floor. He would say give a piece of soapstone and draw whatever it was on the floor and tell me that's how we need to build it. He would watch me weld and I would hear him say that's not going to look very good. After I would finish with the weld he would say how do you do that, then say WOW beautiful weld. That's how I want all our welds to be. It saddens me to hear about his passing. The world could use a lot more Tony Libharts."