August, 2009
Victory Sweepers Introduces Gas/Gas Parking Area Sweeper, The Liberty GX
by Ranger Kidwell-Ross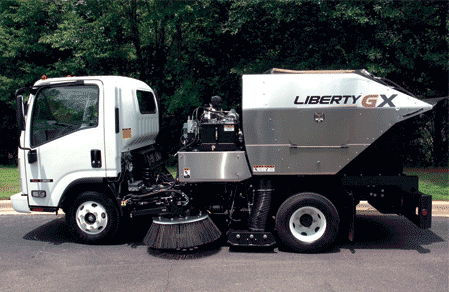 In August of 2009, Victory Sweepers, Inc. announced a new gas/gas model in its line of parking area sweepers, the 4.35 cubic yard capacity Liberty GX.
According to the Victory Sweepers website, the company's new Liberty GX is standard on a GMC 3500 or Isuzu NPR, 12,000 # GVW chassis. Auxiliary power is via a 999cc Kohler two-cylinder, four-stroke engine. For complete specifications, we have a link to the Liberty GX specifications in PDF format.
This sweeper is yet another new product brought out by Victory, the president of which is Mark Schwarze, who for many years headed up the company his father founded, Schwarze Industries, Inc. The Schwarze family started out as sweeping contractors before building their first sweeper in the early 1970s. One of their hallmarks was an ability to understand the needs of sweeping contractors and to then offer what the market wanted.
In the approximately 10-minute audio interview with Mark Schwarze, the link for which you'll find below, he says that is now the primary reason for introducing a gas/gas parking area sweeper to his new company's line. "Although gas engines are still not equal with diesels in terms of average longevity," says Schwarze, "they've come a long way from when 100,000 miles was about what you could hope for from a gas engine. Now they're in the 210,000 mile average, although new diesels are now averaging in the range of 300,000 miles.
"There's about $9,000 difference between a diesel and a gasoline chassis. In this soft economy -- in fact even in a booming economy -- that's hard for contractors to pass along to their customers. And, even though diesel has come back down to about the same price as gasoline, there's no telling how long that will last. Plus, although diesel engines are very dependable, when they do need work it's much more expensive than working on gasoline engines. For example, just replacing an ejector, which each engine has four of, runs $400-$600.
"For all of those reasons and more, backed up by what we've been hearing from contractors, we believe the GX will become a popular model for Victory. We're able to offer it for an introductory price of under $60,000, an outstanding value for a twin-engine sweeper with the kind of sweeping power and features it offers.
"I've heard contractors say that our Liberty sweepers are like getting a 'Chevrolet,' as compared with the 'Cadillac' features our Mark line offers. Our Liberty DX has been a very popular choice with contractors. With the uncertainty about emerging diesel technology and the much higher prices of diesel chassis, coupled with the relative simplicity and longevity that new gasoline engines have, a lot of contractors have expressed interest in having a gas/gas sweeper. I think the Liberty GX will become seen as a very sensible choice, especially in today's economy."
If you'd like to listen to the 10-minute audio interview with Mark Schwarze, click on the player below. No files will download to your computer. If you hear 'chipmunk voices,' it means you need upgrade to the latest version of Adobe's free Flash player.
Mark Schwarze may be reached via email, or by calling Victory Sweepers, Inc. at 866-507-9337. The company's website is www.victorysweepers.com/.
---
If you have a question or comment, please let us know. If appropriate, we'll add it to the bottom of this page.
---