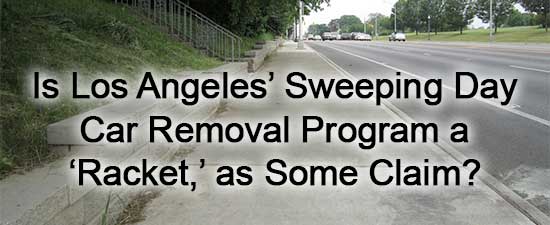 The City of Los Angeles has come under fire over the last several years over its parking ticket program. Tickets in the city, which today average about $63, have been called a "regressive tax" by the Parking Freedom Initiative. More recently, LA's practice of ticketing cars that are on the street during hours posted for street sweeping – but after the sweeper has gone by – are renewing the furor over the City of LA's ticket procedure.

According to a report in the LA Weekly, Los Angeles City Councilman, Mike Bonin, is asking the City's Department of Transportation to ensure that fines "are only as high as necessary to get people to comply with parking rules" rather than at the high level they are currently as an admitted attempt to better balance the budget as a general revenue source.
Another proposal would ask city experts to find out if there's technology that could help open up parking spaces lost to street sweeping hours sooner; ideally, as soon as a street sweeper has passed. "Street sweeping tickets are one of the most frustrating parking tickets Angelenos receive," Bonin's office states. "While it is important for people to move their cars so streets can be cleaned, receiving a ticket for parking on the street during the designated 'street sweeping hours but after the street sweeper has already passed makes no sense."
Although there is some apparent push-back that cars are supposed to move for the sweepers at all – "just for a little dust" – these types of complaints are something that occurs in many cities across the U.S. and around the world. Complaints are especially common where little time or money has been spent to educate citizens about the water importance of street sweeping for water quality and health reasons. Most residents probably have no idea of the difference a sweeper parking ban makes in terms of a better water quality sweep to combat stormwater runoff. Others simply don't care.
Still, with the technology available today, especially smartphone apps, it would seem not that difficult to develop an interactive app that would utilize GPS on the sweepers to notify interested parties when the sweeper(s) have gone by on a given street. However, if the goal of a city is to collect as much money as possible from tickets, rather than do what it takes to get the cars moved prior to the sweepers passage, then it's easy to see why those living, working or shopping in an area with sweeper-mandated parking restrictions might get upset with the practice.
To address the perceived problem in Los Angeles, Councilman Bonin proposed a package of new ordinances and practices that are designed to address some of these issues. The highlight of his package of proposals is one that would put an end to increases in parking ticket fines enacted, according to a statement from Bonin's office: "in order to fund other city services."
Bonin wants:
An update to the city's five-year operation and maintenance plan as it pertains to parking;
Tracking every space in the city with a high-tech system "that can communicate with the public in real-time and replace the static parking regulations of today, such as curb paint and street signs;"
Expanding LA's Express Park system that charges rates based on demand;
Coordination with delivery trucks to maximize parking space;
Keeping more parking revenue in neighborhoods that generate it.
Bonin's parking reform program items were introduced in December 2015 and are expected to reach the City Council's Transportation Committee early next year.
The Parking Freedom Initiative also has a 'laundry list' of requests, including:
Public service-oriented" parking enforcement instead of tickets that are "revenue-oriented;"
Separating parking ticket revenues from the general fund and budget process;
Reducing the cost of tickets;
Making appeals more accessible;
Establishing a process so that neighborhoods and businesses can change parking hours, meter rates, signs and more;
Establishing a "parking advisory board" and a "special parking revenue fund."
The fact is that the rise in technology is spurring complaints in an increasing number of municipalities about the fairness of ticketing vehicles illegally parked in a sweeper restriction zone after the sweeper has passed. With the ever-increasing population making urban areas more dense every year, finding open parking spaces is becoming more difficult. Ditto in neighborhoods where residents are tasked with finding somewhere to move vehicles on scheduled street sweeping days.
As technology to address this issue becomes more widespread, before long it will become apparent in all major cities that require vehicle removal whether or not their parking restrictions are in place to assure the best possible sweep for the very good reasons of improving a health, safety, cosmetic and environmental result or, rather, to maximize revenue coming in to municipal coffers.