June, 2008
Broom Bear Being Donated to
Promote Breast Cancer Cure
Sweeper being auctioned off to benefit breast cancer awareness.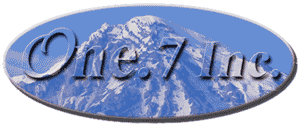 ---
This Broom Bear is up for auction on eBay.. The auction will close on August 2nd.

Read below to learn more about the project.
---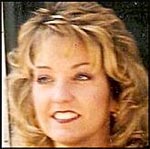 The astonishing fact is that one in eight women are now diagnosed with breast cancer, and it's the leading cause of death by cancer for women. That's a new diagnosis every three minutes, and it's a disease that struck an estimated 19,010 women caused an estimated 5,830 deaths in 2007.
In 2007, Tina McDonough's friend, Michelle Brown (photo to the right), passed away from the disease. In prior years, Tina and others in her company have raised funds in memory of Michell by walking in Seattle's '3-Day Valley Girls A Walking.'
This year, they decided to organize a tremendous company-wide effort to raise funds and awareness of breast cancer. In short, McDonough and the members of her company, One.Seven Inc (pronounced 'one point seven), have brought their involvement on this tragic issue to an entirely new level.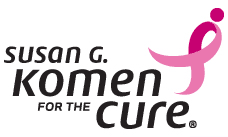 One.Seven Inc is perhaps the largest purveyor of used sweepers in the U.S. So, what could make more sense as a vehicle to promote awareness than a sweeper?
The company has painted an Elgin Broom Bear in the Susan G. Komen Foundation's trademark pink color, enlisted donated assistance from throughout their local area, and will soon be auctioning off the sweeper itself. All proceeds from the machine will be donated to Susan G. Komen breast cancer solution fund.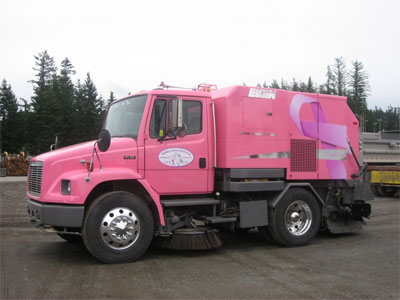 Even though no one met the minimum bid in the first round of online promotion, the effort can be deemed a rousing success already. That's because $63,000 has been raised to date in conjunction with the project.
We invite you to listen to the following audio interview with Tina McDonough as she tells about her inspiration for getting involved, what has been done to prepare the sweeper and the plans for selling the Broom Bear for such a good cause.
Because so much effort has gone into outfitting the machine with breast cancer awareness accessories, the eventual buyer will no doubt reap a large public relations benefit just by using the sweeper in its market area. Not only will the money they pay be promoting breast cancer awareness, but they will be doing so themselves just by operating the sweeper throughout their operating area.
Click on the audio player to listen to the brief, 4-minute overview Tina McDonough provides on their project (no files will download to your computer). You'll enjoy the inspiring story of the involvement their business' effort has generated throughout their local community already. Then, check back to see when the equipment auction will be held and, best of all, bid on purchasing this inspirational sweeper that represents the efforts of the One.Seven organization to help find a cure for breast cancer.
powered by ODEO
If you have comments or further information on this topic, please let us know, or call Tina McDonough at One.Seven at 425-413-1211.