January 20, 2012
Feature Rich Website for the Street Sweeping Industry Offers Resources for Brooms and Brushes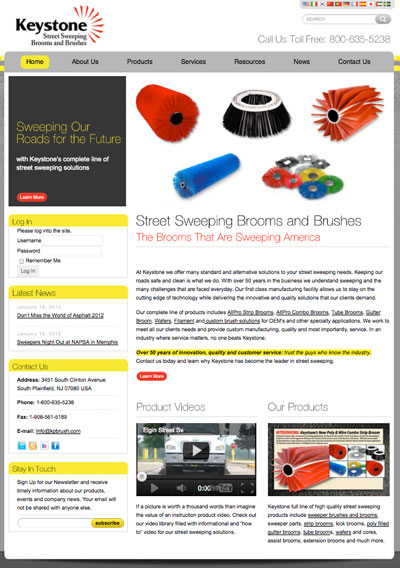 Keystone Plastics, a leading manufacturer of street sweeping brooms and brushes, has launched a new redesigned website, www.KPBrush.com.
Keystone's updated website provides industry related news along with detailed information on the brooms, brushes and ancillary items used by municipalities and other street sweeping agencies.
The new website offers detailed information and photos for all of Keystone's product offerings including the industry leading AllPro Tube Broom and AllPro Strip Broom.
The News and Blog section of the website is geared towards providing valuable industry related information such as tradeshow notifications, product updates and other news that impacts those in the street sweeping industry.
"Our number one focus at Keystone has always been our customers and providing first class customer support and service. Our website was designed so that our customers can have access to all our product information and they can stay up to date on the current industry events," noted Jack Moran, Sales Manager for Keystone Plastics.

---
You can contact Jack Moran and Keystone Plastics by calling 800.635.5238, or by using this link to send Jack an email. The company's website is www.KPBrush.com.
---
If you have a question or comment about this article, please let us know. If appropriate, we'll add it to the bottom of this page.
---