March 29, 2010
Industry Update From the Keystone Team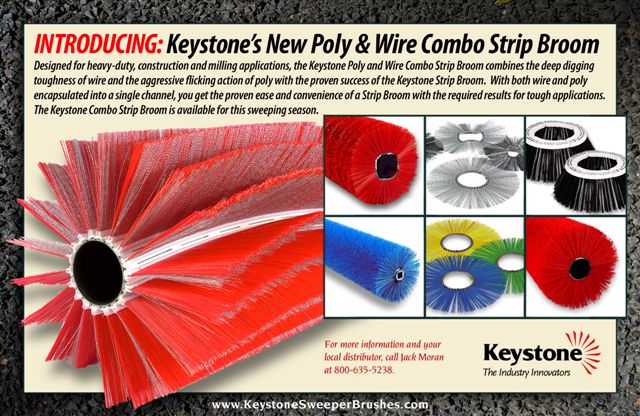 Keystone's new poly and wire, All-Pro Strip Broom is designed for heavy duty construction and milling applications.
The Keystone poly and wire combo strip broom combines the deep digging toughness of wire and the aggressive flicking action of poly with the proven success of the Keystone All-Pro Strip Broom. With both wire and poly encapsulated into a single channel, you get the proven ease and convenience of a strip broom with the results required for the toughest of applications.
"Our All-Pro Strip Broom is in stock and ready for the heavy duty requirements of the 2010 Spring cleanup season," said Jack Moran, Sales Manager for Keystone. "For contractors and muncipalities that want more muscle in their brooms, they'll find what they're after in this hybrid broom. Plus, year 'round this will be a good choice for tough construction cleanup and milling applications."
---
You can contact Jack Moran and Keystone Plastics by calling 800.635.5238, or by sending him an email . The company's website is www.keystonesweeperbrushes.com.
---
If you have a question or comment about this article, please let us know. If appropriate, we'll add it to the bottom of this page.
---