Elgin Sweepers Featured in Kansas City Royals' World Series Celebration Parade
Kansas City, MO – November 2015
The City of Kansas City, Missouri has scored another record year with the achievement of an all-time record high in citizen satisfaction combined with City-wide pride in Kansas City's 2015 World Champion Royals baseball team.
The City's 2015 Royals World Series Celebration, honoring Royals fans, players and support staff, kicked off at noon on Tuesday, Nov. 3 and concluded with a City-wide rally at Union Station. The event, which is estimated to be the largest celebration event in Kansas City history, brought approximately 800,000 fans to Kansas City's downtown – even though only 200,000 people were expected. The event featured cleanup with a fleet of nine Elgin sweepers.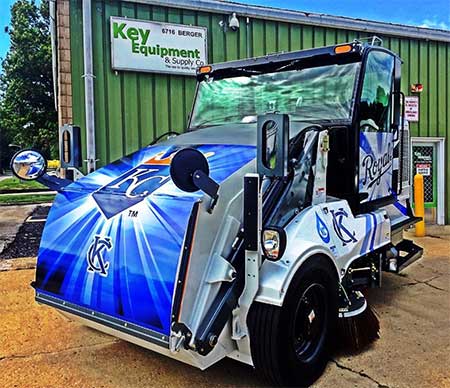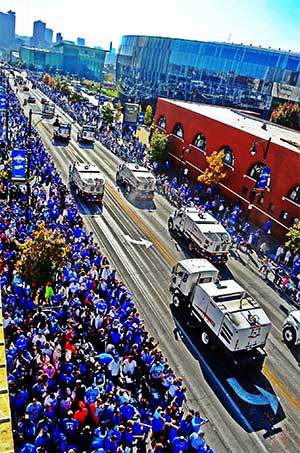 "Kansas City is bursting with success, innovation and achievement," said City Manager Troy Schulte. "We take great pride in all of the work that our employees do each day to make this City great. The support and attendance that our residents showed during the Royal Celebration event was absolutely phenomenal. We hope to continue to share this spirit for our world-winning City throughout the year."
Several City Departments were involved in the success of the historic celebration event:
Public works, Water Services and Parks & Recreation Departments collectively disposed of more than 14,000 pounds of trash following the parade and rally.
Kansas City Water Services' street sweepers cleaned 91 gutter miles and disposed of more than 5 tons of debris!
Kansas City Police Department enlisted 400 officers to work the parade, and made only 3 arrests.
Kansas City Fire Department responded to 119 calls for emergency medical services and, with assistance from Fire/EMS mutual aid partners, transported 53 patients to area hospitals.
Other interesting facts:
26,012 feet of barricade protected residents along the parade route
220 trash bins lined the parade route
16 confetti cannons showered fans with more than 400 pounds of confetti
Residents engaged with City of Kansas City, Mo. social media outlets in record numbers, tripling twitter interactions and generating seven-times the City's typical facebook reach.
100+ "Home Sweet Home" Limited-edition street banners adorned City streets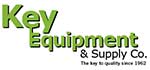 Jeff Miles, Manager of Elgin Sweepers' dealer, Key Equipment & Supply Co., offered the following about participation of Elgin-brand sweepers at the parade. "We are proud to have had nine sweepers – three Pelicans, five Eagles and one Broom Badger – included for parade cleanup. And, six of the nine were CNG sweepers. The machines picked up, we calculated, five tons of debris weight... about 90 cubic yards of material. This required 30 dump cycles by the sweepers."
Miles and company also produced a video that offers a sweeper operator's-eye view of parade cleanup. However, as you'll see, the video is edited with a 'twist.' Take a look at the 1:32 video to see all the action, but as it didn't quite occur...
---
---
Private sponsors and supporters contributed $300,000 to the approximate $350,000 total cost of hosting the City-wide celebration. Sponsorships covered the big-ticket hard costs such as rentals of the barricades, sound system, stage and big screens. The City expects to pay $50,000 in overtime and clean-up costs, which were minimized because the event happened on a weekday and during the work day.
Thanks to Kansas City's Director of Communications, Chris Hernandez, for providing much of the statistics used in this article. To reach Chris for more information, call 816-513-3474 or send an email to chris.hernandez@kcmo.org.