Johnston Introduces VS650 CNG Sweeper
Mooresville, SC – October 23, 2012

Johnston North America introduces the new VS650 CNG, delivering high-performance and environmentally-friendly CNG all in one powerful package.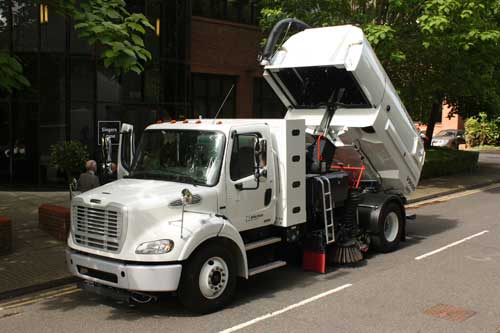 Power For The Heavy Urban Environment
Equally at home on municipal street cleaning or extreme heavy duty work sites, the VS650 CNG consistently delivers high pick-up performance – even on contractor duties such as road planing and dirt pick-up around construction sites and access roads.
Lower alternative fuel costs and lower incremental maintenance costs can save valuable dollars. Maintenance-free exhaust systems and lower life-cycle costs help green-up your bottom line. Government incentives and Infrastructure Tax Credits may be available to green fleets that can help reduce acquisition costs significantly.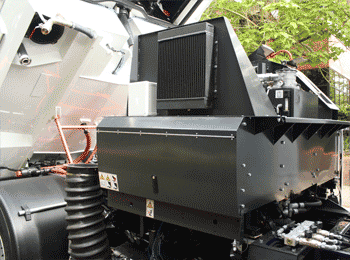 With a heavy-duty, corrosion-resistant NIROSTA® stainless steel body, Johnston's VS650 CNG is robustly built for unrivaled durability. Johnston is the only sweeper manufacturer to offer as standard, "Complete Hopper Constructed of Stainless Steel" and an industry-leading warranty.
The single-engined VS650 CNG utilizes Johnston's hydrodrive gearbox which provides infinitely variable forward speed control and hydrodynamic braking. The operator can perfectly match the speed to the operation. Available in dual- or single-sweep configuration, the maximum 11.8-feet swept path ensures superb coverage per hour – and with high capacity hopper, water systems and fuel tanks, the VS650 CNG is designed to stay at work longer.
Mounted to the subframe, the hydraulically-operated sweeping system is designed to prolong the life of the brushes and reduces the cost of ownership. Both channel and wide-sweep brush installations feature quick-change mechanisms, which reduce downtime between changeovers.
All sweeping operations are controlled from the master module inside the cab, while all critical systems controls – including the master circuit breaker plus the valves and auxiliary equipment for the pneumatic, hydraulic and water systems – are housed in a purpose-built, dust- and weather-proof locker. The VS650 CNG comes with waterproof IP67 automotive electrical connectors to enhance reliability.
With many years experience of sweeper design, Johnston has developed a unique system which creates a cyclone effect within the hopper, which efficiently filters dust and debris particles through mesh screens prior to discharge to atmosphere. This unique design is a standard feature of all Johnston V sweepers. The load de-watering system, fitted as standard, enables drainage of water from the waste volume in the hopper.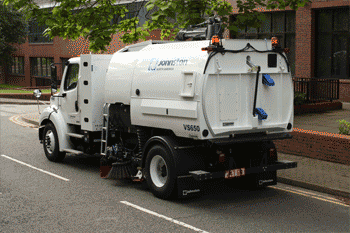 The VS650 CNG also features a standard PressadrainTM water purging system that enables the easy removal of water from the systems in freezing overnight conditions.
The VS650 CNG comes with an option for a water recirculation system that recycles water from the hopper into the suction nozzle, which conserves water while it reduces dust emissions. Water recirculation significantly increases sweeping productivity by allowing greater distances to be swept before the water tank needs to be refilled. The VS650 CNG also achieves full PM10 test compliance in stringent air quality tests encompassing the entire vehicle's emissions.
The Johnston VS650 CNG offers a variety of cost-efficient and work-efficient options that make the VS650 CNG the perfect choice.
Options
Littasnatch: Specially developed to pick up light litter from pavements and hedgerows. With a lightweight, easy to operate flexible hose and nozzle, it can reach up to approximately 23 feet.

Supawash: A high pressure water system for faster cleaning of gulleys and drains using a hose and hand lance. Water can also be diverted to a front-mounted full-width spray bar or suction nozzle to help remove stubborn road debris.

Powascrub: This wide sweep brush ground pressure device enables the extra scarifaction of compacted debris.

Load De-Watering: With increases in waste tipping charges, this option ensures that you only pay for waste volume, not unnecessary water volume.

Rear Mesh Shakers: A fast and effective method of clearing damp paper and leaves from suction meshes.

Wanderhose: Available in 8 inch diameter, this rigid, turntable-mounted hose with a flexible extension enables cleaning over a wide 11 foot radius.
High Performance – Low Emissions
The Cummins Westport ISL G engine evolved from the proven Cummins ISL diesel currently in operation in many fleets today. This cost-effective, high performance engine is packed with important features that have a positive impact on vehicle life-cycle costs. Housed in an enclosure behind the cab, carbon fiber reinforced aluminum type 3 compressed natural gas (CNG) fuel tanks offer an approximate range of 250 miles depending on your application. A standard methane gas detection system alerts the driver in the event of a fuel leak.
EPA 2010 and CARB emission standards compliant
Available up to 320 hp/1000 ft/lbs torque
35% more torque at idle than previous Natural Gas engines
No SCR after-treatment system is required
Maintenance-free exhaust system
No DPF regeneration, cleaning or replacement
Improved fuel economy
Reliable/Durable
Highest power-to-weight ratio in its class
Shares many components/parts with ISL diesel engines
Available ratings optimized for Allison transmissions
Domestic fuel source reduces dependency on foreign oil
To see details of the VS650 CNG sweeper, we offer these links to PDF files of our general marketing specifications and to our technical specifications for the machine.
For more information, please contact Johnston North America at 704-658-1333, send email to info@johnstonnorthamerica.com, or visit johnstonnorthamerica.com