March, 2021
Non-CDL Sweeper Chassis Facing Supply Shortages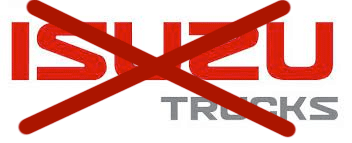 Largely due to pandemic-related issues, the supply of both cabover and conventional chassis needed for non-CDL sweeper mounting are in short supply now and for the next several months.
---
An Analysis From...

by Mark Schwarze, Sales Manager, Victory Sweepers

My sources say that many Isuzu dealers saw the crisis emerging and so ordered as much as double their usual inventory last November. Fortunately, to help alleviate the shortages, Isuzu corporate reportedly pulled that extra inventory away from its dealers in order to offer them to companies that mount their various products onto them, including sweeper manufacturers. As usual, the US Isuzu team is working hard to keep us all supplied with trucks.
However, the shortages are real and the sweeping industry is competing with a variety of other upfitters for these chassis. Still, we are told that none of the chassis are due to be released until sometime in April, and maybe even later.
On the topic of conventional trucks, sources report that both Chevrolet and Ford are "waiting on chips." Those models are apparently caught up in the computer chip shortage that most people will have heard about. Although most contractors prefer cabover chassis by a wide margin, the conventional chassis shortage effectively eliminates an alternative for someone who needs a new sweeper badly enough to want to move to a Chevrolet or Ford conventional chassis-mounted sweeper.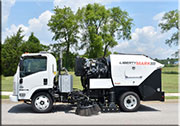 We're scrounging for everything we can get our hands on until at least April. We have found about a dozen trucks, so that has helped. One of the big problems facing all of us as parking lot sweeper manufacturers is that we run up to 19,500 GVWR NRR chassis but with a 109-inch wheelbase. Most all of the box truck upfitters run the longer wheelbase so they can put a bigger box onto the chassis.
Currently, Victory has several chassis in stock. I suggest that contractors who know they will be wanting to purchase a Victory sweeper – or a non-CDL sweeper from any other company – should call to get on the waiting list. At least here at Victory, no deposit will be required, and we will then allocate on a first-come, first-served basis.
Victory wants its customers to know that this is not a situation where, back in November, the company was told "Hey, there's a problem with those 80 trucks you ordered." Instead we got an email that said "There has been a short delay and your January/February truck order has been shifted to the first of March." Then, two weeks later, they re-shifted the delivery date to sometime in April and, shortly after that, we were told it was more likely we'll have to wait until June and maybe even July. That info was for both companies' chassis, cabover and conventional.
We know there are some Dodge chassis out there, but they have gotten crazy expensive especially since Dodge figured out there was a shortage of Isuzu chassis. We are investigating the International chassis as a possible replacement for Isuzu's 17,950 GVW NQR chassis, which we use for our Victory Mark III units. That's because the NQR chassis is the one that we're told will have delivery dates stretched out the furthest, with no deliveries expected until August.
We also want to assure our Victory customers that we will not be changing their pricing due to the chassis shortfall situation. However, one change Victory is making, for the duration of the shortage, is to not mount customers' existing sweeper bodies onto a new chassis that Victory might have in stock.
Mark Schwarze may be reached via email or call him at Victory Sweepers, 844 479-3373.
---
An Analysis From...

by Dario Manti, Sales Manager, Merit Sweeprite



We are very aware there is a shortage of Isuzu chassis currently occurring in North America. We were fortunate to have ordered enough 109-inch wheelbase chassis in advance to avoid this situation from becoming a disaster for us. From our perspective, given the industry's difficulty with hiring and keeping CDL sweeper operators, it has the potential of becoming a very serious issue later in 2021.
It's anyone's guess how many chassis will be available for the Winter 2021 – 2022 build season. Our many industry contacts are reporting that non-CDL sweeper sales were running about 3-to-1 over CDL-required units this year. In some provinces of Canada (all of which we serve in addition to the US marketplace), non-CDL sales have amounted to 100% of our 2021 business.
Up to January first of this year, the closest replacement for the Isuzu NRR was the Mitsubishi FUSO chassis. They were not a particularly attractive alternative since they were not available in a 109-inch wheelbase model and they lacked a vertical exhaust option. Mitsubishi's decision to depart the North America market created a virtual overnight monopoly for Isuzu.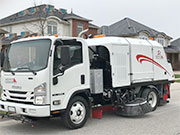 Hino (a Toyota company) builds a Diesel with 19,000 Lb. capacity but deliveries can be half-a-year out. In Canada, they are also quite expensive in comparison to the NRR chassis. Unlike Isuzu, the manufacturer once again does not offer a vertical exhaust option. For those and other reasons, almost no builders we have encountered have selected the Hino chassis over the Isuzu.
Freightliner offers a downgraded version of the M2 with hydraulic brakes. but it's a standard truck frame design which is quite large in comparison to the compact NRR frame. Matching its much larger dimensions would probably require a major sweeper section redesign. We also looked into a relatively new chassis manufacturer, Rainier Truck and Chassis (Yakima, WA). Distribution in Canada does not exist at this time and they don't seem to have any interest in the sweeping business.
For these many reasons the Isuzu shortage is shaping up to become a disaster for some – and a hardship for many – of the non-CDL sweeper builders in North America, as well as for sweeper users who need unanticipated replacement sweepers. The arrival of the gadget-laden Isuzy 2022i series chassis are not expected until the late Fall, leaving the industry scrambling for the foreseeable future.
Global alternatives such as MAN, TATA, SCANIA and IVECO have not ventured into the North American market and any assault on Isuzu's monopoly would require years of testing and DOT approvals. So, don't expect this problem to resolve itself soon. Chassis prices are rising and dealers are also quoting December 2021 deliveries for the much awaited NRR gasoline chassis. This new chassis will also require shortening since Isuzu has listed 132 inches as the shortest wheelbase available. Just another cost to pass on to our customers.
We're afraid that, in the near term, our industry has developed a serious case of COVID. That said, if you want to see what's in store for the future, you'll want to check out the list of features Isuzu is announcing for its 2022 chassis lineup – many of which I fear will not be of particular benefit to sweeping contractors.
Dario Manti may be reached via email or call him at Merit Sweeprite, 519-648-9777, ext. 230.
---
If you have a question or comment about this article, please let us know. If appropriate, we'll add it to the bottom of this page.
---