January 5, 2010
Introducing the 'Green Sweeper:' the First Electrical Sweeping System for Chassis-Mounted Sweepers

The 'Green Sweeper' electrical option for chassis-mounted parking area sweepers may revolutionize the origin of sweeping power.
Scott Graby has been a Tennessee-based power sweeping contractor for over 20 years. The fact that he's "been there, done that" makes it even more enjoyable to hear the pride in his voice as he talks about designing the first-ever electric sweeping system for chassis-mounted parking area sweepers.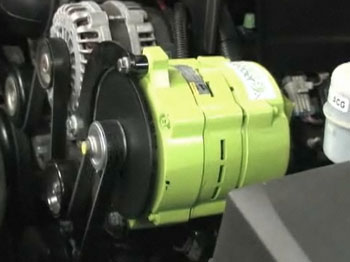 "Using a specially-designed alternator for the chassis engine," Graby said, "we generate about 6000 watts of three-phase electrical power. This runs to a simple regulator (shown below), and the entire sweeping system is then powered by a durable three-phase electric engine that replaces the current pony engine.
"Our introductory unit is a module that will retro-fit any of the 2007-1/2 or newer Isuzu/GMC chassis that most parking area sweepers are mounted on."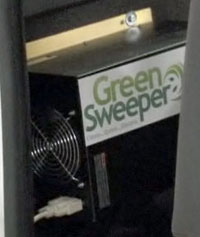 Graby is convinced the new system will become a huge hit with parking area sweeping contractors. Listening to him extoll the simplicity and many virtues of the system—especially the fact that users will save over a gallon of fuel an hour—it's easy to agree. If the Green Sweeper system works as advertised, it's approximately $10,000 price tag will more than pay for itself in short order. Plus, you can use your current pony engine to... well, I'm sure you'll figure something out.
The Green Sweeper electric power module will be sold as an option to current, standard production sweepers. For $299, the company will handle the labor needed to retrofit your current sweeper.
At this time, the company does not have plans to build a sweeper platform of its own. The idea is that the environmental, electrical technology will be installable on any manufacturers' make and model that uses a chassis they have a Green Sweeper kit designed for. Ultimately, Graby expects to have Green Sweeper modules for a wide variety of sweeper types.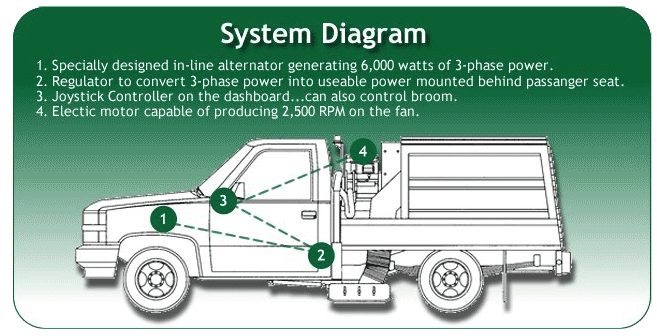 In the audio interview held with Graby, he discusses the engineering and testing behind the Green Sweeper, as well as talks about the enormous cost-savings the system offers. Attendees at the upcoming National Pavement Maintenance in Nashville, January 20–23rd, will have the first opportunity to see the Green Sweeper. Graby has hopes of being the first sweeper manufacturer able to actually operate his sweeper on the show floor.
---
In the following audio interview of about 16 minutes, Scott Graby provides an overview of the Green Sweeper electrical sweeping system.
Note: The audio will play without downloading any files onto your computer. If you hear the interview at 'chipmunk speed,' you will need to download the latest version of Adobe's free Flash player.
---
You can contact Scott Graby and his Green Sweeper organization by calling 615.890.9109, or by sending email to info@greensweeper.com. The company's website is www.greensweeper.com.
---
If you have a question or comment about this article, please let us know. If appropriate, we'll add it to the bottom of this page.
---