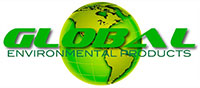 Global Environmental Products Touts First Diesel/Electric Purpose-Built Broom Sweeper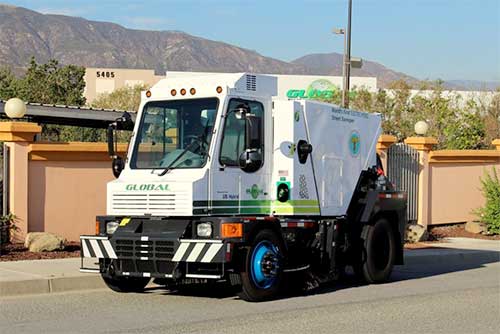 Global Environmental Products (Global) has long been a supplier of sweepers for the California Department of Transportation (Caltrans).

Global management has announced it is offering the first hybrid (diesel/electric) purpose-built sweeper configuration in the sweeping industry. The model, which is an adaptation of its M4 mechanical broom sweeper model, is called the M4Hybrid.
"Finding the right street sweeper to do the job can be a difficult task." So says Sebastian Mentelski, Sales Manager at Global. "Street sweepers, just like other tools, are meant to do one job – clean and sanitize the streets. Global sweepers are built specifically for that job. Global's mechanical sweepers have many options for many different applications. These include heavy duty sweeping package, stainless steel hoppers, powerful brooms, leaf gate systems and more."
One of the ways Global Environmental's engineers are bringing leading-edge technology and components to the sweeping industry is the development of a diesel/electric hybrid model for the company's M4 mechanical sweeper line.
"Our latest street sweeper, the M4Hybrid model," said Mentelski, "is designed and classified as true HYBRID. Although the sweeper still utilizes a diesel engine, that engine doesn't drive the sweeper. Rather, it drives a generator. Designed specifically for the sweeping application, the generator provides power to the batteries. Those, in turn, provide power to electric drive motors. Furthermore that same generator powers the sweeper's hydraulic systems, which include all the sweeping functions of the machine.
---
A close-up look at the M4's generating system.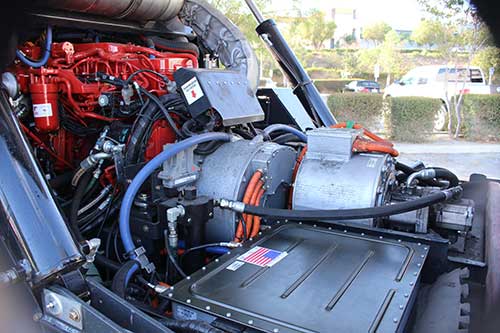 ---
"In recent news from the automotive industry most everyone has heard about how fast and powerful electric vehicles can be. Our M4Hybrid street sweeper is no different: An electric motor drives the sweeper and, yes, it has lots of power!" One of the benefits of the hybrid system, says Mentelski, is lower fuel consumption. Since the diesel engine that drives the generator is not under constant load, so fuel consumption is reduced by 52% compared to our same diesel-powered sweeper model. Furthermore we reduce other emissions, such Nox and other greenhouse gasses. Another advantage of the Global M4Hybrid, over its diesel counterpart, is that operation is much quieter.
Following are some of the features of the M4Hybrid model that were provided by the company: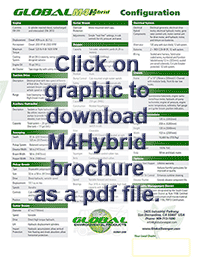 Over 52% increase in fuel economy
Reduced emissions.
Reduced noise levels.
Travel speeds up to 60 MPH.
State-of-the-art environmental automotive technology.
Toughest and most rugged purpose-built mechanical sweeping system ever constructed.
PM-10 water system improves air quality
"We understand that our customers are looking for something unique," said Mentelski. "Our Global Street Sweepers are designed to sweep very well. Our heavy-duty sweeping systems, along with a comfortable cab with great visibility and easy-to-use controls are standard features. Our M4Hybrid model already has a very positive track record operating on busy city streets. However, we don't think that is enough. We work hard to make sure our street sweepers are efficient in every way. We also believe that electric street sweepers and other on-road electric vehicles will re-define the future!"
---
Did you know Global now offers a periodic newsletter?
Click here to take a look at the archive of previous issues or click here to sign up to receive each new one when it is released.


---
For additional information contact:
Global Environmental Products
Email: info@globalsweeper.com
Phone: (909) 713-1600
Website: www.globalsweeper.com