Global Environmental Products Introduces the Global M4HSD EV Model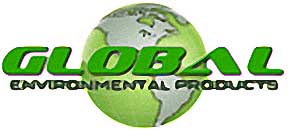 Global Environmental Products (Global) introduces its M4HSDEV, a class 7 street sweeper it calls "The first and only 100% electric drive, plug-in, rechargeable street sweeper."
San Bernardino, CA – April 2022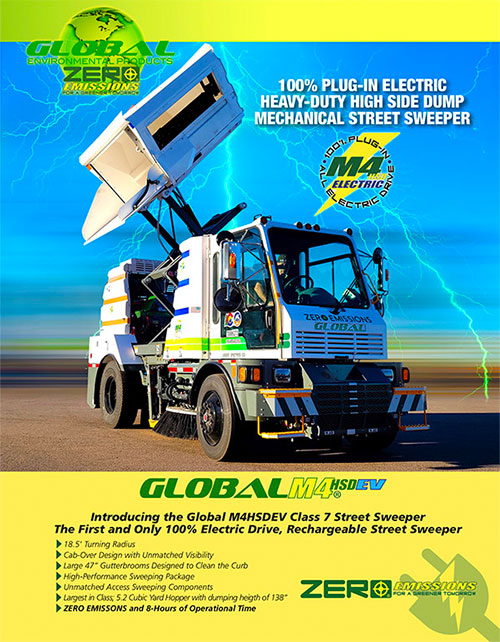 ULTIMATE PERFORMANCE ZERO EMISSIONS – From the modern, comfortable and well appointed operator's cab, to the toughest and most rugged mechanical sweeping system ever built, the Global M4HSDEV is designed to take on the worst of the worst sweeping conditions.
THE ONLY CLASS 7 PLUG-IN ELECTRIC STREET SWEEPER with a dumping capacity of 12,000 lbs and HIGH Side Dump Hopper capability in the USA.
With a standard heavy-duty sweeping package, Global M4HSDEV will sweep sand, gravel up to 3-Tons per minute. The sweeping speed of 3-12 mph allows for a very efficient operation.
With exceptional maneuverability (18.5' Turning Radius), perfect for any cul-de-sac, and superb visibility make this a perfect choice for any Municipal/Governmental agency requiring high-performance, reliability, and ZERO EMISSIONS.
The inherent design of the Global M4HSDEV makes it the only choice among 4-wheel mechanical sweepers. With the center mounted/cab forward layout the operator has unsurpassed visibility of the road surface as well as pedestrians and surrounding traffic. The large hopper capacity equals more lane miles swept between dump cycles and the 18.5-foot turning radius makes the Global M4HSDEV highly efficient and comfortable.
With travel speed of 55-MPH and a battery operational range of up to 8-hours, towns, villages and large cities will be able to clean the streets while protecting our environment and building a cleaner future with ZERO EMISSIONS. At the end of the shift just plug in the sweeper, recharge the batteries and sweep again.
ALL ELECTRIC DRIVE SYSTEM – 210KW Lithium Ion Batteries will last for up to 8 hours of operation. With a 10-Year Life Span, the batteries are designed to last and will not have to be replaced.

Learn more about Global's ZERO EMISSIONS
For additional information contact:
Global Environmental Products
Email: info@globalsweeper.com
Website: www.globalsweeper.com

---
---