FAYAT Group Buys Dulevo Sweepers
August 2021

The Fayat group has acquired sweeper manufacturer, Dulevo International S.p.A. When the purchase was completed this past May, Dulevo became part of FAYAT Environmental Solutions. Dulevo's well-established reputation and professional expertise, particularly in self-propelled mechanical sweepers, will further strengthen the Group's position in this industry segment.
Fayat group management states that Dulevo was purchased because of a belief that the company's strong global product range will complement Fayat's current sweeper family, which currently includes Ravo, Scarab and Mathieu. This latest acquisition, according to Fayat's management team, will "create a true 'One-Stop Sweeper Shop' capable of delivering the fullest possible range of complementary products. With this acquisition, FAYAT Environmental Solutions will become the global leader in sweeping solutions. With the addition of Dulevo, FAYAT Environmental Solutions will have yet another source of expertise and excellence."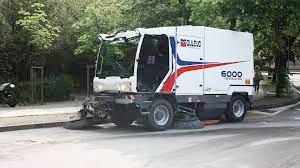 Going forward, the entities will be able to share best practices and harmonize business processes in order to maximize the benefits that this wider pool of knowledge brings to everyone involved. Leveraging these benefits, FAYAT Environmental Solutions will be able to offer dealers and end-users the best possible customer experience and the highest possible level of service.
The acquisition includes all Dulevo International sales and service operations, as well as ownership of the administrative buildings and all manufacturing facilities in northern Italy. For Jean-Claude Fayat, President of the FAYAT group, this acquisition means, above all, a chance to deliver greater benefits to dealers and end-users alike.
"We are very happy to welcome Dulevo into our Group," said Fayat. "Dulevo will enlarge our offering of mechanical and electric sweepers, while accelerating our growth in some strategic geographic areas. We will create even more value for our customers. We will leverage expertise and complementary technologies with our existing portfolio to continuously develop solutions that closely meet the needs of our customers, today and for the future."
About the Fayat group:
The Fayat group, operating in 170 countries thanks to the dedication of more than 21,500 employees, provides innovative and sustainable solutions to its customers all over the world in the 7 major activities where it has developed: Civil Works, Foundations, Building, Energy Services, Metal, Pressure Vessels and Road Equipment. In 2020, the Group achieved turnover of Û4.1 billion. For more information: www.fayat.com
About Dulevo International:
Dulevo International S.p.A was founded in 1976 in Parma, Italy, and opened its first manufacturing plant in 1982. Operating in more than 80 countries, Dulevo has more than 200 employees and recorded an annual turnover of Û70 million in 2020. For more information: www.dulevo.com
Dealer inquiries and press contact:
For Mathieu, Ravo and Scarab sweepers, the contact person is Cees van der Put. Cees may be reached via email sent to c.vanderput@ravo.fayat.com. You may also call him at 262.725.4210. For more info visit www.environmentalsolutions.fayat.com.
For the Dulevo brand of sweepers, the general corporate contact is Umberto Cini. You may reach him via email sent to u.cini@dulevo.com. You may also call him at +39-348-018-9117. For more info visit www.environmentalsolutions.fayat.com. The website is www.dulevo.com.
For US-based information on Dulevo, send email sent to infodulevoamericas@dulevo.com or call +1 (305) 677 0555. For more info on the Dulevo brand visit www.dulevo.com.
For press-related inquiries contact Marc Maisonneuve
Head of Marketing & Communications
Fayat Environmental Solutions
Mobile: +31 (0) 653-681-252
E-mail: M.Maisonneuve@ravo.fayat.com
Web: www.environmentalsolutions.fayat.com

---