Sept. 11, 2009
Elgin Sweeper Gives New Life to Used Sweepers With Rebuild Program

Elgin Sweeper, the leader in environmentally efficient street sweepers, has introduced a factory authorized sweeper rebuild program for customers unable to purchase new sweepers due to budget constraints in the current economy. Available to municipal and contractor customers until Dec. 29, 2009, the program was established in conjunction with Elgin Sweepers North American dealer network.
"Our rebuild program is a great alternative for customers working with Elgin sweepers that have endured years of extensive work, especially when there isnt room in their budgets to purchase a new sweeper," said Frank Ligori, parts marketing manager for Federal Signal Corporation's Environmental Solutions Group, of which Elgin Sweeper is a subsidiary.
According to Dave Donlon, vice president of Standard Equipment Company, an Elgin Sweeper dealership located in Chicago, Elgin Sweeper is leading the industry with this comprehensive rebuild program. "In terms of service and maintenance, Elgin Sweeper always seems to take the lead," Donlon said. "I don't see any other sweeper manufacturer as committed to service as Elgin Sweeper is, and the rebuild program is a perfect example."
All point inspection
Developing a standard, all point inspection form for each Elgin Sweeper model was the first step in developing the rebuild program. In most cases, these model-specific forms include approximately 100 points of inspection. "The all point inspection forms include hydraulic, electrical and mechanical functions," Donlon said.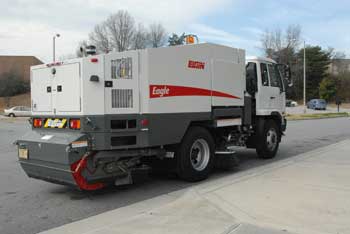 "The inspection is what makes this rebuild program so special," Donlon said. His team of technicians thoroughly evaluates the sweeper and provides the customer with a comprehensive list of needed repairs. "We want our customers to be fully aware of all areas of repair," he said. "We want to save customer downtime by rebuilding the sweeper right the first time so they have peace of mind for the entire sweeping season."
During the rebuild process, Donlon said his team ensures that the sweeper is mechanically sound. Depending on the customer's needs and the condition of the sweeper, the extent of the rebuild may include sand blasting, re-painting and all fit and finish.
Factory trained technicians perform repairs
As part of the rebuild program, Ligori said that Elgin Sweeper offers its dealers a flexible online training solution that is available 24/7 to their technicians. "Online training provides our dealers with a cost-effective method of delivering the information, tools and skills necessary to be successful in the sweeper market," he said.
"The online training is a way for Elgin Sweeper to help develop dealership technicians through electrical, hydraulic and trouble-shooting theory and technique," Donlon said. "It also serves as an avenue to monitor the level of technician expertise among its network of dealerships."
Donlon added that one of the goals of the online training is to provide Elgin Sweeper dealers with the tools and resources they need to deliver the highest level of service and customer support for programs like the rebuild program. "We need to be able to provide our customers with innovative solutions for equipment, parts and warranties," Donlon said. "We view Elgin Sweeper's training as a work-in-progress and feel it is very important that we stay ahead of the curve."
Just like new
Aside from the obvious benefits of the Elgin Sweeper rebuild program, Donlon added that the program creates owner/operator pride in the rebuilt machine. "After the rebuild, the sweeper looks new, runs smoother, performs better and makes the operator feel like they're working in a brand new machine," he said.

For more information on the Elgin Sweeper rebuild program, contact your local Elgin Sweeper dealer, or visit www.elginsweeper.com to find your local Elgin Sweeper dealer.
---
If you have a question or comment about this press release, please let us know. If appropriate, we'll add it to the bottom of this page.
---