Elgin, Illinois – March 2, 2011
Elgin Sweeper Announces Sale of Pelican Sweeper to Japan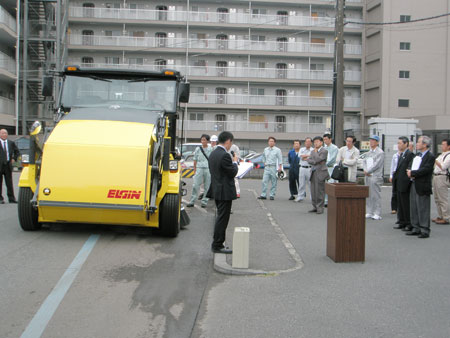 Street sweeper manufacturer Elgin Sweeper completed a Pelican three-wheel broom sweeper sale to Keiyo-Kogyo, based in Tokyo, Japan.
A member of the Tokyo Sweeping Association, Keiyo-Kogyo is using the Pelican to supplement its current fleet of 10 sweepers to clean the streets of Tokyo every night. Three-wheeled sweepers like the Pelican have been used by the city of Tokyo since 1957.
Representatives of the Tokyo Sweeping Association came to the United States to meet with various sweeper manufacturers and their equipment dealers for product demonstrations. During their visit, the association members visited Sansom Equipment Company, Inc., an Elgin Sweeper dealer with locations in Birmingham and Mobile, Ala., for a Pelican sweeper product demonstration.
Daiichi Jitsugyo Co., Ltd., Elgin Sweeper's dealer in Tokyo, facilitated the sale of the Pelican sweeper to Keiyo-Kogyo. The dealer worked closely with the customer and representatives of the Tokyo Sweeping Association on the sale, including helping to secure a special licensing agreement for the wider Pelican sweeper to be able to sweep in Tokyo. The Pelican sweeper is three inches wider than Japanese laws allow, so a special permit was needed.
"Street sweepers often need to negotiate tight spots, take difficult corners and make critical maneuvers in reverse, which requires good visibility to the front, sides and rear of the machine, as well as to the traffic and work areas," said Frank Ligori, national parts marketing manager at Elgin Sweeper. "With the Elgin Mobile Camera system, the monitor in the cab provides the operator with a detailed view of the main and side brooms to check the collection of debris. The operator can also switch to a rear view of the sweeper when backing up, turning or changing lanes."
For additional information or detailed specifications on the Elgin Pelican, please see your local Elgin Sweeper dealer or visit www.elginsweeper.com to find a dealer near you.
---
If you have a question or comment about this press release, please let us know. If appropriate, we'll add it to the bottom of this page.
---