Front Debris Hose Option Now Available for Elgin Waterless Pelican® Sweeper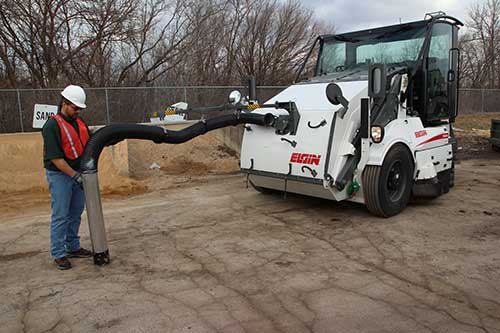 Elgin, IL – September 2016
Designed for light to medium debris, including gravel, sand and cement, in both industrial and municipal applications, the optional debris hose is intended for hard-to-reach material accumulations.
Elgin Sweeper, the leading manufacturer of street sweepers for general street maintenance, special industrial and airport applications, has introduced a front debris hose option exclusive to the bestselling Elgin Waterless Pelican® three-wheel sweeper.
"The front debris hose option on the Waterless Pelican allows the operator to manually remove certain debris and aggregate-type materials that are inaccessible via the sweeper's standard sweep gear," said Adam Braun, associate product manager at Elgin Sweeper. "This option is another example of the versatile sweeping solutions we provide our customers to help them meet their needs on the job."
Featuring a six-inch diameter and a 12-foot reach, the front debris hose can be operated by a single operator and is stored onboard the sweeper. The vacuum for the debris hose is created by the standard fan on the sweeper.
Known for outstanding maneuverability and visibility, the Waterless Pelican's standard features include no-jam debris conveyor with a chevron-style belt, variable height front dump hopper, durable, purpose-built chassis and an efficient, comfortable cab. The patented dry dust control feature includes a dust skirting system, dust separator in the hopper, and a dust control fan with a maintenance-free filter – working together to control fugitive dust without the use of spray water.
For more information on the Waterless Pelican sweeper from Elgin Sweeper, or to schedule a product demonstration and receive pricing on this new feature, please visit www.elginsweeper.com or contact your local Elgin Sweeper dealer.
---
Sold and serviced through a network of more than 100 dealer locations worldwide, Elgin Sweeper products are the sweepers of choice for a variety of general street maintenance, special industrial and airport applications. With more than 100 years of experience, Elgin Sweeper offers municipalities, contractors and industries the most sweeper options in the country, using the latest sweeping technologies—mechanical, pure vacuum, regenerative air, alternative fuel and waterless dust control.
Elgin Sweeper is a subsidiary of Federal Signal Corporation's Environmental Solutions Group. For more information, visit www.elginsweeper.com.