Elgin Sweeper Hosts Visit by Illinois Congressman Peter Roskam

Elgin, IL – February 2015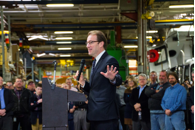 Elgin Sweeper, a division of Federal Signal Corporation, recently hosted a visit by Congressman Peter Roskam (R-IL), who represents the 6th District of Illinois. During his visit to Elgin Sweeper, Roskam toured the manufacturing plant, viewed the assembly of the company's street sweepers and met with employees. A strong advocate for manufacturers in Illinois, Roskam complimented Elgin Sweeper's success domestically and internationally and congratulated the company on its impressive 101-year history.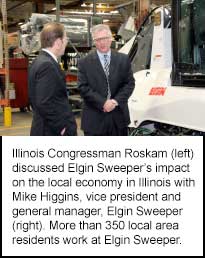 "We were honored by Congressman Roskam's visit to Elgin Sweeper," said Mike Higgins, vice president and general manager, Elgin Sweeper Company. "The Congressman was interested in the technology leadership of our alternative fuel sweepers, waterless dust control sweepers and our regenerative filtration systems, along with our commitment to creating a cleaner world to live in. Additionally, he recognized our business's impact on the local economy. More than 350 local area residents work at Elgin Sweeper, so the Congressman was very appreciative of our efforts to keep jobs in the local community – and in America overall."
Recently honored by the National Association of Manufacturers (NAM) with their Award for Manufacturing Legislative Excellence, Roskam is now in his fifth term in the U.S. House of Representatives. The Congressman's visit to Elgin Sweeper was sparked by his continued legislative efforts to support the manufacturing industry, which he views as playing a critical role in the success of the American economy in the 21st century. Elgin Sweeper is representative of Illinois manufacturing companies that, together, employ over half a million hardworking people in the state and grow jobs in a sector that contributes to overall economic growth.
About Elgin Sweeper
As one of the most enduring brands in North America, Elgin Sweeper joins an elite list of companies that have reached the century mark. Established in 1914, Elgin Sweeper is at the forefront of the sweeping industry, advancing the use of cleaner, safer, and healthier energy technologies.

Offering the latest sweeping technologies – mechanical, pure vacuum, regenerative air, alternative fuel and waterless dust control – to municipalities, contractors and industries, the company is committed to providing exceptional sweeper performance while reducing the overall negative impact of air and water pollution on the environment. For more information on Elgin Sweeper, visit www.elginsweeper.com and follow Elgin Sweeper at http://www.Facebook.com/ElginSweeper.

Sold and serviced through a network of more than 100 dealer locations worldwide, Elgin Sweeper products are the sweepers of choice for a variety of general street maintenance, special industrial and airport applications. With 100 years of experience, Elgin Sweeper offers municipalities, contractors and industries the most sweeper options in the country, using the latest sweeping technologies—mechanical, pure vacuum, regenerative air, alternative fuel and waterless dust control. Elgin Sweeper is a subsidiary of Federal Signal Corporation's Environmental Solutions Group. For more information, visit www.elginsweeper.com.

Federal Signal Corporation (NYSE: FSS) provides products and services to protect people and our planet. Founded in 1901, Federal Signal is a leading global designer and manufacturer of products and total solutions that serve municipal, governmental, industrial and commercial customers. Headquartered in Oak Brook, Ill., with manufacturing facilities worldwide, the Company operates three groups: Safety and Security Systems, Environmental Solutions and Fire Rescue. For more information on Federal Signal, visit: www.federalsignal.com.




For more information on Elgin's 100 years in business, check out the article on the company's website.
---