Federal Signal's Environmental Solutions Group Announces EcoInfusedTM Technology Initiative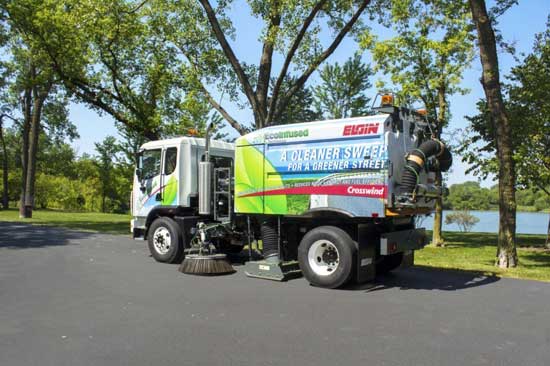 Technology delivers increased fuel efficiency, reduced CO2 emissions and reduced noise
Elgin, IL – August 22, 2012
Federal Signal Corporation's Environmental Solutions Group today announced an initiative to develop and deploy environmentally sustainable products that have the potential to increase energy efficiency and enhance air and water quality in communities around the world.
---
Under its EcoInfusedTM Technology initiative, the Environmental Solutions Group will develop green, energy-efficient and low-emissions technology solutions for its Elgin Sweeper street sweepers and Vactor Manufacturing sewer and catch basin cleaners.
"Over the years, the Environmental Solutions Group has led the charge in advancing the use of cleaner, safer, and more efficient technologies for sweeping roads and streets and cleaning sewer lines and catch basins," said Mark Weber, president of Federal Signal Corporation's Environmental Solutions Group.
"The technological innovations developed as part of the EcoInfusedTM Technology initiative will provide the powerful performance, fuel economy and overall value our municipal and contractor customers demand."
EcoInfusedTM Technology represents years of unmatched innovation and success combining the science of alternative fuels, high efficiency dust, debris and particulate removal, advanced filtration systems, improved horsepower management and water conservation technology. This provides Elgin Sweeper and Vactor Manufacturing contractor and municipal customers the ability to do more with less.
Weber highlighted a new configuration of the Crosswind regenerative air sweeper from Elgin Sweeper featuring a patent pending Shared Power system as an example of the new EcoInfusedTM Technology. This new sweeper configuration allows power to be transferred from the chassis to the auxiliary engine. The power can come from the chassis engine or from vehicle momentum as regenerative braking. The power normally lost to heat by braking can be directed to the auxiliary engine, resulting in improved performance and reduced fuel consumption.
"For Elgin Sweeper, the EcoInfusedTM Technology combines science and innovation to produce more environmentally efficient sweepers, like the new Crosswind Shared Power configuration," Weber said.
A new Crosswind sweeper featuring the EcoInfusedTM Technology-inspired Shared Power configuration will be displayed at the Elgin Sweeper exhibit (booth 701) at the 2012 APWA International Public Works Congress & Exposition, August 26-28 in Anaheim, California.
---
Federal Signal Corporation (NYSE: FSS) is a leader in advancing security and well-being for communities and workplaces around the world. The company designs and manufactures a suite of products and integrated solutions for municipal, governmental, industrial and airport customers.
Federal Signal's portfolio of trusted, high-priority products include Bronto aerial devices; Elgin street sweepers; Federal APD parking, access and revenue control systems; Federal Signal safety and security systems; Guzzler industrial vacuums; Jetstream waterblasters and Vactor sewer cleaners and vacuum excavators. Federal Signal was founded in 1901 and is based in Oak Brook, Ill.
For more information, visit www.federalsignal.com.
---