Elgin Broom Bear Wins Contractors' Choice Award
Elgin, IL – August 2015
Built for sweeping materials like millings and gravel, the durable Broom Bear® mechanical sweeper from Elgin Sweeper is known for tackling both heavy road construction and light street maintenance sweeping. The Elgin Broom Bear received a 2015 Gold Contractor's Choice award in the Street Sweeper category from the readers of Roads & Bridges magazine.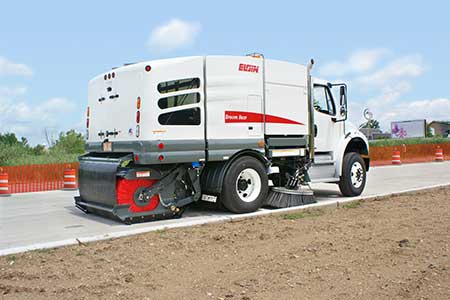 "We are honored to once again accept this prestigious award from Roads & Bridges magazine and to have one of our sweepers recognized by the very contractors and professionals who are using our equipment in the field," said James Crockett, sweeper products manager for Elgin Sweeper." At Elgin Sweeper, we are committed to providing our customers with the right sweepers for the right applications. The continued recognition of our sweepers by the readers of Roads & Bridges reaffirms our efforts to meet our customers' needs for reliable, productive equipment."

Sponsored by Roads & Bridges starting in 2006, the annual Contractor's Choice Awards invite the contractor audience to vote and pick the best equipment available on the jobsite. This year, 129 different products were recognized in 42 different product categories. The nominations are routed through an independent group of judges, and then contractors are given the chance to vote for what they view as the best product. The top three winners in each category receive either a gold, silver or bronze award.

The Broom Bear sweeper features a choice of a squeegee-type conveyor or conveyor belt configuration, providing contractors and municipalities with greater flexibility for the unique sweeping applications they encounter. The sweeper's efficient, single-engine design delivers greater water and hopper capacity, requiring fewer scheduled stops.

Simple controls make the sweeper easy to operate. With its highway speeds and short wheelbase, the Elgin Broom Bear is at home both in congested urban areas and remote rural locations. Options for the sweeper include a LifeLiner® hopper system, in-cab side broom tilt and extended reach and various lighting packages.

For more information on the Elgin Broom Bear mechanical sweeper, please contact your local Elgin Sweeper dealer or visit www.elginsweeper.com to find a dealer near you.
---
The leading sweeper brand in North America, Elgin Sweeper offers the latest sweeping technologies – mechanical, pure vacuum, regenerative air, alternative fuel and waterless dust control – to municipalities, contractors and industries. Elgin Sweeper is committed to taking advantage of leading technologies to provide exceptional sweeper performance while reducing the overall negative impact of air and water pollution to the environment. With more than 100 dealer locations around the world, the company's dealer partner professionals provide unmatched customer service and expertise.