Elgin Sweeper Offers Autocar Cab-over Chassis Option for Broom Bear® Sweeper
Elgin, IL – March 2017
Elgin Sweeper has introduced an Autocar, LLC cab-over chassis option for the Elgin Broom Bear® single-engine mechanical sweeper. The first commercially available cab-over chassis for the Broom Bear provides a tighter turning radius and best-in-class in-cab visibility.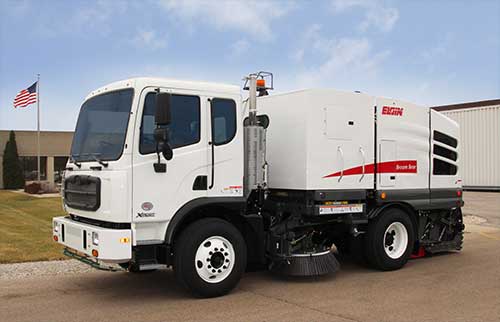 "We are proud to collaborate with Autocar to develop the only single-engine, cab-over mechanical sweeper in the industry," said Adam Braun, associate product manager, Elgin Sweeper. "This chassis package for the Elgin Broom Bear will exceed the maneuverability and visibility needs of our municipal and contractor customers handling everything from heavy-duty construction debris sweeping to light street maintenance."
Featuring a 136-inch wheel base, the new cab-over chassis is equipped with a Cummins ISL 9 diesel engine rated at 260 hp @ 2200 RPM, with 720 Ft-lb of torque. The chassis also features an Allison 3500 transmission and a two-speed rear axle.
The new chassis accommodates the optional 5.4 cubic-yard hopper without increasing the sweeper's wheelbase. This allows for increased capacity of sweeping debris without sacrificing maneuverability. Operator ergonomics are optimized on both sides of the factory dual steer system.
The Elgin Broom Bear is designed for heavy sweeping of such granular materials as millings and gravel. Simple sweeper controls make it easy to operate. With its highway speeds and short wheelbase, the Broom Bear is suited for both congested urban areas and remote rural locations.
For more information on the new Autocar cab-over chassis for the Elgin Broom Bear mechanical sweeper, please visit www.elginsweeper.com or contact your local Elgin Sweeper dealer.
---
Sold and serviced through a network of more than 100 dealer locations worldwide, Elgin Sweeper products are the sweepers of choice for a variety of general street maintenance, special industrial and airport applications. With more than 100 years of experience, Elgin Sweeper offers municipalities, contractors and industries the most sweeper options in the country, using the latest sweeping technologies—mechanical, pure vacuum, regenerative air, alternative fuel and waterless dust control.
Elgin Sweeper is a subsidiary of Federal Signal Corporation's Environmental Solutions Group. For more information, visit www.elginsweeper.com.