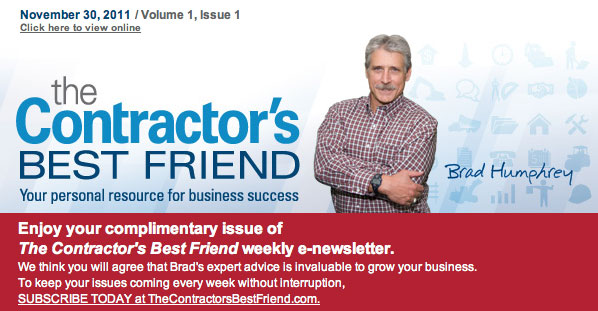 Brad Humphrey, Cygnus, Start "The Contractors Best Friend" Weekly Newsletter
Longtime presenter at National Pavement Expo starts a subscription-only weekly newsletter for pavement contractors.

San Diego, CA – December 14, 2011

Brad Humphrey sat down with WorldSweeper.com's Editor, Ranger Kidwell-Ross, to discuss his new contractor newsletter concept. Humphrey is partnering with Cygnus on the endeavor to bring a weekly subscription e-newsletter to the pavement industry. Use the link below to view video of the interview, and then take a look at a sample issue provided for WorldSweeper.com readers, below.

Note that WorldSweeper readers are offered an opportunity to join the newsletter group at a special half-off rate of $99/year through January 1, 2011. To get the discount, use the code 'BRAD' when signing up.
First Newsletter Contents: 2-MINUTE DRILL
How an End-of-Year "2-Minute Drill" Can Help You Capture Referrals, References and More Profits
Joe Montana. John Elway. Now there are two names that are synonymous with maximizing the final period of a game... and winning! Every opposing coach realized that a lead against either of those quarterbacks was never completely safe if there were two minutes left in the game, regardless of point difference.
The real keys to the infamous "2-Minute Drill" are:
Be prepared
Call and execute the right plays, and
Perform poised and under control
In similar fashion, every contractor can act to finish his or her year in winning fashion while also building up a backlog of work for the following season. Here's how:
First, Be Prepared!
As you approach the final "2-Minutes" of your year consider what final sales efforts you can make to capture some late-game success while also seeding the chance to obtain more work over the off-season and for 2012.

It might even be worthwhile to create some realistic incentives for the customers who are currently in a holding pattern on whether to complete work with you or not. Get them off the dime by providing a discount – but still profitable – price or other incentive to get the work under contract.

Additionally, recognize what crisis-type of work might be needed by active and potential customers and market your services specifically tied to the work. For example, in cold and icy markets concrete or asphalt damage can occur. In those situations property managers of commercial or residential investments need immediate attention to those damaged areas. Go to these folks and alert them to what you can do to assist them in such situations -- and add that you can provide some prevention efforts "NOW" to reduce if not eliminate the need for such emergency work in the first place.

Prepare your workers for responding in a moment's notice during this "2 Minute" time period. Late in the year many customers feel a bit of regret that they didn't act or plan earlier. Perhaps they are even a bit remorseful that they should have hired you do their job but chose either to postpone (again) work that needed to be completed or worse, they chose to go with another contractor and got exactly what they paid for -- poor quality and even less customer satisfaction.

All this can work in your favor if you'll develop a plan that contacts current, lost, and potential customers and educate them on your plans to be quick as a cat to deliver the high-quality work you have become known for. Make sure they know you are poised to respond at a moment's notice, then work to make your equipment, tools, vehicles, and people positioned to be quickly collected, loaded, and performing on the job.
Second, Execute the Plan
The best planning and preparation are for naught if we don't execute the plan. Therefore, hold weekly meetings with your foremen and key personnel to discuss upcoming activities and improvements to maximize your crew's efforts. Be sure that your internal support operations are up and ready to speed up the external crew's performance.
This execution is improved when you have a weekly planner who maps out exactly what is happening, who is scheduled to make it happen, and what the needed resources are to support what's happening!
To further assist your execution effort you should have a variety of pre-work checklists designed to improve the speed and accuracy of what your workers will be doing. For example, examine the types of emergency calls you might send a crew on and develop checklists for each type of job, including checklists for:
Tools each job requires
Material each job requires
Maintenance so that items that require maintenance are always maintained and ready to go
Items that might not be needed on every emergency job but that need to be easily accessible to be placed on your trucks
Similar to an emergency room where the staff is prepared for certain types of walk-in patients, you too can shorten your firm's response time by having the needed resources available and positioned appropriately.
Additionally, you should be recording productivity results when these emergencies happen. Measure actual hours worked, materials used, and equipment time used. The costs should be captured and compared as a percentage against budget or what was projected for each job completed. This will provide you with some form of quality control while also providing some insight to why and how you are making money.
Third, Be Poised and In Control
Seasoned contractors realize that you must remain calm and collected when performing under pressure during the late part of the year. Every customer call appears to be an emergency Ð in fact it is an emergency to them – and "We really need to get the work in on this year's budget!" Such last-second pleas for HELP! can unsettle the contractor who doesn't have a plan and is not prepared to respond.
It's easier to remain poised when you do have the plan referred to earlier. Such planning and preparation takes away much of the end-of-the-game jitters because you are confident that your premeditated efforts will enable you and your crew to achieve your desired goals.
Staying "in control" of your emotions and your decisions will embolden your followers – your crews – as they see you calmly addressing the emergency calls. By the way, staying in control not only will calm your workers, it will also reaffirm to your customers that you are the right contractor to do the work and that you are organized, with a plan, to get their job done.
The "2-Minute Drill" Can Add to Profits!
Keep a final thought in mind as you review and employ the three points presented in this newsletter. Your "2-Minute Drill" should not be prepared to lose money. You should not be giving work away at the same or even smaller percentage of mark-up. During this last critically important, often highly emotional part of the year you should be prepared to charge slightly more for your services, especially as you near the very end of the season.
Turn your "2-Minute Drill" into a moneymaker!
For more info and to sign up for the newsletter, go to: www.TheContractorsBestFriend.com.
---
If you have a question or comment about this press release, please let us know. If appropriate, we'll add it to the bottom of this page.
---