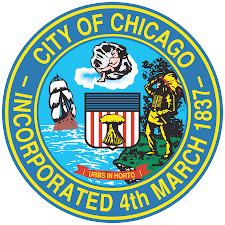 Chicago Rolls Out Online Street Sweeper Location App
CHICAGO, IL – April 2018
Chicago has announced a new online tool now available to residents and visitors alike to track street sweeping days on their block. The online-only app will assist citizens in avoiding the $60 tickets that are routinely issued when drivers leave their cars in designated sweeping zones.
Street sweeping season in Chicago started on April 2nd. During a news conference on March 30th, John Tully, commissioner of Streets and Sanitation, announced the launch of the City's new street sweeper tracker application.
The tool is similar to the city's snowplow tracker, said Marjani Williams, director of public affairs at the Department of Streets and Sanitation. The plow tracker has been popular, Williams said, with up to 30,000 users each day this past winter. The application identifies *automatically* where you parked your car, indicates the car location as a Blue icon on the map, saves the parking location and notifies you if street cleaning info is available for this street.
According to promo for the app: "The street sweeping schedules are different for every Chicago city Ward and the app allows users to easily find the Chicago street sweeping schedule for their location in the City. The City of Chicago will issue street sweeping tickets to every car parked on streets subject to cleaning from 9AM to 3PM on listed days. Furthermore, all parked cars are also subject to towing and additional fines. Our service allows users to avoid tickets and towing fees."
From the tracker website, residents and visitors can see where the sweepers are in each ward, as well as the latest neighborhood schedules. However, there is no mobile app version and the tracker does not issue alerts advising when a sweeper is nearby. That said, the City did see its way clear to negating the tickets given to around 1,000 cars that remained parked on April 9th, when the city couldn't sweep because of a late-season snowfall. Although the City will lose about $60,000 in revenue, it will no doubt gain a big PR positive.
The City is also continuing to help drivers keep track the old-fashioned way, via no-parking signs. Some streets have permanent signs notifying motorists of days when parking is prohibited because of street sweeping. Other streets have temporary signs posted at least 24 hours in advance designating the day the sweepers will be on the block.
In 2017, Streets and Sanitation crews swept approximately 250,000 miles of curb lanes on residential and main streets and just under 5,000 miles of alleys. Both were increases over the 2016 season.