Beach Cleaning: Honolulu Chooses Cherrington's 5500 for Island of Oahu Cleanup
(Jamestown, North Dakota) January, 2016 –
Beach usage is growing and becoming a significant part of the municipal tourism industries. Cherrington recently delivered three of its Model 5500 beach cleaners to Honolulu, Hawaii. The machines will be used to maintain several beaches on the Island of Oahu.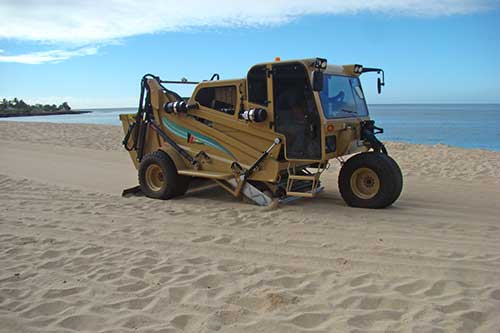 The City of Honolulu chose the Cherrington 5500 because it was seen to be a high-capacity beach cleaner in a compact, self-propelled unit. Cherrington's 5500 has a unique three-wheel design that offers impressive maneuverability and zero-turn ability. The Cherrington's fixed, but oscillating, sand sifting system is low maintenance with carbide wear points, an entirely galvanized screen bed, and optional stainless steel sifting screens.
The 5500 uses a fuel-efficient 64 hp. diesel engine and offers all the capacity, speed and comforts of full-sized tractor-beach cleaner combination. The Cherrington 5500 is only 17 ft. long and can be legally driven on streets or easily be transported on a standard roll-back truck. The Cherrington 5500 is right choice to keep the pristine beaches of Hawaii in perfect condition!
For more information, visit the Cherrington website, located at www.cherrington.net. You may also reach the company by calling 701-952-0226, or by sending email to: beaches@cherrington.net.