Beach Cleaning: 7-Star Dubai Hotel Chooses Cherrington's Beach Sweeper
(Jamestown, North Dakota) May, 2016 –
Cherrington Beach Cleaners is proud to have been chosen to supply one of its beach cleaners to the Burj Al Arab Hotel in Dubai, the world's only 7-star hotel.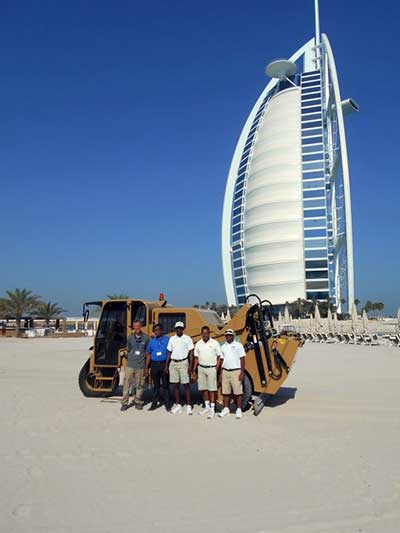 This is the second Cherrington Beach Cleaner Model 5500 purchased by the Jumeirah Group. They also use a Cherrington 5500 and two Cherrington Model 3000's at the Madinat Mina A'Salam, also in Dubai, United Arab Emirates.
Cherrington offers 8 models of beach sand screeners; use them and you'll end up with the absolute cleanest beach. Remove cigarette filters, seaweed, glass – all in one quick pass. Cherrington has the right-sized machine for your beach and budget.
This screening method will remove cigarette filters, broken glass, seaweed, bottle caps, coral, shells, stones – everything bigger than the chosen screen-hole size.
Most of the dangerous or unwanted debris on a beach is hidden under a layer of beach sand. Only Cherrington's Screen Clean Method truly removes all the trash and debris, and produces a beautiful and safe beach for your patrons.
Our goal is to provide cost-effective solutions for beach cleaning that are versatile, dependable and low maintenance.
Cherrington's self-propelled beach cleaners offer zero turn radiuses for maximum maneuverability and are easy to transport and store. The self-propelled Cherrington Models excel on large ocean beaches, and yet easily maneuver on beaches or play areas that are too narrow for tractor model beach cleaners.
Cherrington Screeners are also used as rock and root pickers on landscape sites for seed bed preparation. The fine screening benefits are also appreciated on horse tracks and arenas, for small stone removal or anywhere you need to screen topsoil 4" to 6" deep.
---
For more information, visit the Cherrington website, located at www.cherrington.net. You may also reach the company by calling 701-952-0226, or by sending email to: beaches@cherrington.net.