A WorldSweeper Earth Day 50 Special Report on COVID-19's Impact on Sweeping Personnel in Nigeria, the Philippines and India
The World – April 22, 2020
COVID-19 Sweeping in Lagos, Nigeria
From The Premium Times, Lagos, Nigeria.

Deborah Oyebode, a street sweeper who resides at Ajegunle said the lockdown has brought her an untold hardship because she has to come to work everyday. While complaining about the increase in transport fare, Mrs. Oyebode said they were not remembered in the food package being distributed by the government but were mandated to come to work.
"Nothing has been given to us, not food or even money. The bus stress has reduced this week because there are some busses that started carrying us this week, free of charge. "The government is not taking care of us at all, no basic provision, not even protective equipment," another road sweeper said.
Ruth Alabi lamented that because of the lockdown, life has become more difficult as she now spends double on what she used to spend on transportation. "The buses they just provided cannot carry everyone of us, sometimes, before I get to the bus-stop, the bus might not come. They will not carry you if you don't wear your uniform.
"Ordinary I. D card, or pass, they did not give us. Our supervisor supplied nose masks when coronavirus first started, but we now buy on our own. Not all of us are uneducated, they are not doing us well at all," Mrs Alabi said.
The street sweepers with the Lagos State Waste Management Agency (LAWMA) were earning N18,500 ($47.50 US) before the minimum wage was effected in Lagos, but now earn N25,000 ($64.18US).
"They are yet to pay us salary for the third month (March), many of our people come late to work because of transport, while some don't come at all if the price is too much," another road sweeper, who declined giving her name said.
The road sweeper said that she has not benefitted from the palliative measures being announced by the government. "Not even one sack of food stuff was given to us, I can tell you from Mile 12 down to Anthony, none of us have collected anything," she said.
---
Philippines street sweepers dance to keep their spirits up during COVID-19 lockdown

From One News Page, The Philippines.
Street sweepers in the Philippines dance together to warm up for another day of work – keeping the city clean during the coronavirus pandemic.
Mercy Perez Dalida, 50, one of the street sweepers in Mandaluyong City said that they want to cheer up each other now that the streets have become empty because of the coronavirus lockdown. She said: "We still work the night shifts together and you have no one to talk to because we are assigned to our areas to clean. In the daytime, when we see each other in the morning we do a little activity to socialise."
Street sweepers are deemed essential workers in the Philippines so they continue with their work despite the Covid-19 coronavirus lockdown.
---
COVID-19 or hunger? Tough choice for India's labourers...
Sweeping Delhi's streets
From alKhaleej Today, New Delhi, India.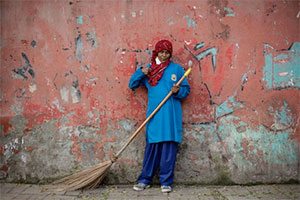 Raj Kumari, a street sweeper, is out working despite Prime Minister Narendra Modi's lockdown order for India's 1.3 billion citizens to fight the spread of coronavirus. The photo was taken in New Delhi, India, March 26, 2020. Image credit: NYT
Sweeping leaves and trash off a deserted street and dumping them into her rusted wheelbarrow, Raj Kumari said the silence of the normal cacophony of Delhi was glorious but eerie.
She used to sweep Delhi's streets with her husband, but he died eight years ago. She is now the sole breadwinner for her six children, after her eldest son was laid off from his tech job this past week because of the lockdown.
"It's just me and the sewer cleaners out here now," she said.
The lockdown has affected public transportation, and she now walks two hours just to get to work. "This is what I have to do for money, for life," she said. "Even if the streets are empty, I have to come out. I don't have the pleasure of staying at home; this is my duty."
The government has never provided Kumari, who does not know her exact age, with gloves or masks for her job. But one of her daughters forbade her from working without protective gear during the pandemic and gave her a mask that her school had donated to students to protect against Delhi's infamous pollution.
"I'm not afraid of corona," Kumari said. "Why would anyone fear death when it is time for God to take you?"