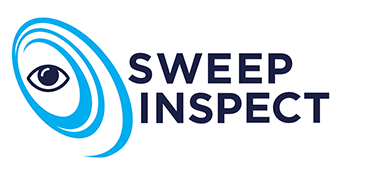 Louisville Pavement's 'SweepInspect!' Management Inspection Portal
by Ranger Kidwell-Ross
Jim Blackerby, owner of Kentucky-based Louisville Pavement Sweep, has developed a very elegant, full-featured, inspection app. The app allows sweeping company managers to rate the job done by sweeper operators, know their exact time spent per account and much, much more.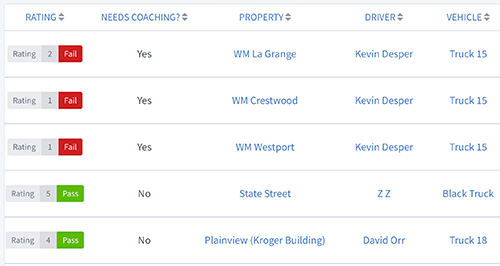 One of the biggest problems for companies that sweep parking lots face is oversight of the jobs done by their employees. Much of the work of parking area sweeping is done at night, and some companies have workers with a low level of education. For many reasons, smart managers recognize the need to check up on how good a job has been done.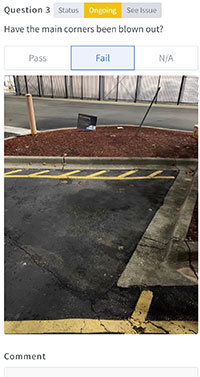 Another issue, since inspectors want to provide objective assessments, ones that are consistent across properties, operators and sweeping routes. After that, there's the matter of how to address the scoring to the operators, following up with them, rating how they respond to the input and more.
Also a difficulty solved by SweepInspect! is the ability to keep clients apprised about the condition of their properties, not only in terms of the sweeping being done but more especially when more work is found to be needed, such as graffiti, large item dropoffs, etc.
The SweepInspect! portal, designed to handle all of that and more, is available to sweeping companies on a very reasonable monthly subscription basis. With the portal, owners can keep a running grade of all properties and drivers, keep company documents (such as insurance cards) and store employee-specific information.
The portal also has the ability to send customers a branded webpage that can show pictures and descriptions of problems on their property that are outside the scope of sweeping. Using the portal, customers can choose to accept or deny work orders with the click of a button.
The following is a list of the major benefits the SweepInspect! portal offers to subscribing contractors:
1) Quickly perform quality control inspections in 10 minutes or less.
2) Keep a cumulative grade from 1-5 on employee ratings, as well as property ratings, based on the inspections.
3) Keep a running list of failed inspections questions or "issues" so that problems get resolved.
4) Keep driver, truck, property and insurance information stored in the system.
5) Create routes that factor in things such as stop times per property; drive times from stop-to-stop; the duration of employee breaks; and, more to provide estimated route duration almost down to the minute.
6) Let's drivers see stop information such as address, time budgeted to sweep, outlines of the property and what areas are to be done at each individual stop. This reduces the "I didn't knows" dramatically
7) Easily see an individual route's total revenue, labor expense and net profit in the aggregate.
8) Easily see an individual property's total revenue, labor expense, and net profit on any given night.
9) All information is saved to the system so you can go back however far you need to find information.
10) Customize who in your organization can see various of the information.
11) Perform site inspections and find issues outside of sweeping. You can then send a custom, company-branded link with pictures and descriptions straight to your customer.
12) Customers can accept or reject work orders with the click of a button. The system will send you the option they select via email which reduces the back and forth between your company and your customer.
13) Saves time by not dealing with paperwork from having multiple systems for different aspects of your routing, employee management or profit/loss spreadsheets.
14) The developers run a sweeping company and add updates to the system based on what we hear other sweeping companies want.


In addition to all of the other benefits is the professionalism increase SweepInspect! gives the subscribing company. That's because the portal can be customized with the logo and colors of any company using it.

To learn about the full-featured SweepInspect! portal, take a look at the video, linked below, which Blackerby made to explain the portal's many features. At the end of 2020, Blackerby was licensing the app to companies for $200/month. Members of the World Sweeping Association receive discounted use of the app, with licensing set at the discount price of $125/month.
Learn more about SweepInspect! by viewing the following brief videos explaining the program. Each will open into a new browser window:
Click here or on the SweepInspect! Advanced Routing Video image shown below to view the explanatory video in your browser on YouTube.

---
Click here or on the SweepInspect! Example Financial Info Video image shown below to view the explanatory video in your browser on YouTube.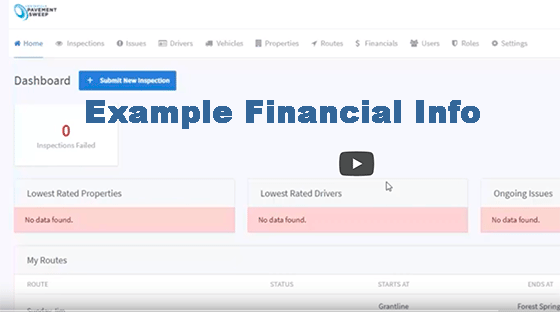 ---
Click here or on the SweepInspect! Advanced Stop Detail Video image shown below to view the explanatory video in your browser on YouTube.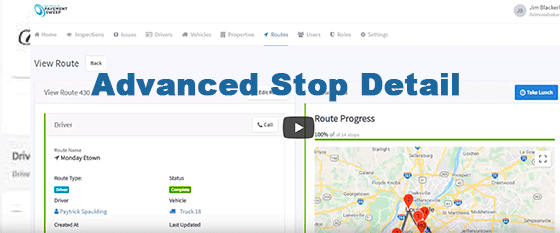 ---
You can contact Jim Blackerby via email sent to Jim@ sweeplouisville.com. You may also reach him by calling 859-533-1415.