Italian Consortium Builds Sweeper With 'Artificial Intelligence'
Marsala, Italy – April 2016
Story information provided by Villiam Abbondanza, Stratepulite.
A consortium of three companies operating in the territory of Marsala, Italy, in a collaboration with the University of Palermo and l'Association CRITICAL, has concluded a project called "Sweeper mechanics auto road cabin with intelligent remote diagnostics."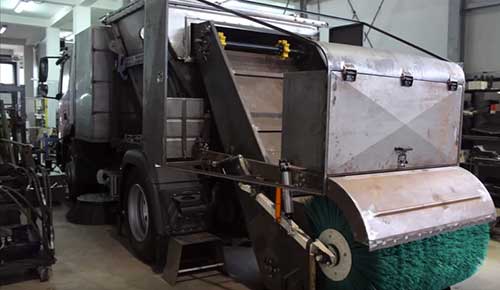 The collaboration to create a sweeper that utilizes artificial intelligence to track and predict needed repairs was funded by the European Union and the Sicily Region Department of Productive Activities Department.

The project, conceived in 2011 by Project Manager Arch. Fabrizio Russo, started in 2013, ended in late 2015.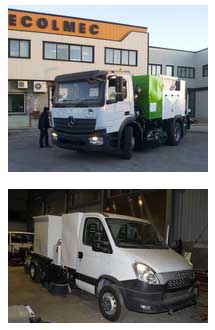 As final products of the project two prototype sweepers were produced, one mainly dedicated to large construction sites, built on a chassis with a Mercedes 130 quintals (28,660#) cab. The other is a smaller sweeper on an Iveco 70 quintal (15,432#) chassis, which is designed for cleaning urban centers.
The innovative aspects of the two prototypes are sensors that detect the presence of data, in real time, that provides the status of the various components. The data are transmitted to a data processing center to diagnose, predictively, through artificial intelligence techniques such as neural networks and logic fuzzy, impending rupture or failure.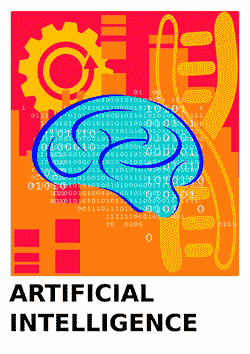 Such predictive diagnostics provide a check and a constant monitoring of the entire vehicle fleet in the national territory, European and even international locations. This provides data for scheduling targeted maintenance and optimization of logistics, both of human resources and a recommended supply of spare parts, in order to reduce downtime for the sweepers.
Other innovative aspects designed into the sweepers were related to noise reduction. Belts were used for debris transport instead of noisier chain-driven systems. Advanced acoustic insulation was also employed on the sweepers.
Those with more interest may view a 5-minute YouTube video that showcases the design/build of the larger sweeper unit. Although the dialog is in Italian, the build process is an interesting one.