Richard Arlington Awarded Snow Industry Commitment Award
August 2011; Erie, PA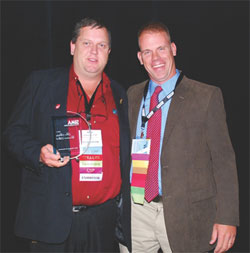 Businessperson and national speaker, Richard Arlington, Certified Landscape Professional 'CLP' and Certified Snow Professional 'CSP,' and PLANET Trailblazer was recently honored with the Snow Industry Commitment Award by the international Snow and Ice Management Association known as 'SIMA' during their 14th Annual Symposium in Schaumburg, IL.
Arlington is President of Rich Arlington & Associates and Arlington Lawncare, Inc. in Erie, Pennsylvania, as well as, Consultant and Business Manager of Affiliated Grounds Maintenance Group, Inc. based in Lake City, Pennsylvania. "The Snow Industry Commitment Award recognizes a SIMA Associate member—supplier, manufacturer or consultant—who has provided an outstanding contribution to snow and ice contractors through innovation, support or customer service," said Brian Birch, SIMA's Assistant Executive Director.
Arlington possesses 25 years of experience providing landscape, lot sweeping, and snow and ice maintenance services to the facility management industry. He specializes in litigation consulting in the areas of snow management and landscape practices. Arlington also travels throughout North America to speak on a wide range of business and industry-related topics.
"I am truly honored to receive the Industry Commitment Award, however, my real reward is the satisfaction I receive in helping others to succeed in this business," said Arlington.
Arlington stood out among other candidates for the company's innovative speaking programs geared toward the education of both snow contractors and property managers/facility owners that were presented this past year at some of the nation's largest facility management associations.
The company was also recognized for its successful implementation of safety training programs on snow and ice management to universities, colleges, and insurance companies, as well as, the hundreds of hours of volunteering Rich Arlington provides through SIMA's Buddy mentoring, committees, board of directors, and the PLANET Trailblazer program.
In 2000, Arlington joined Affiliated Grounds Maintenance Group, which has grown to encompass work in 31 states with over 4000 contractors. In 2005, he launched a consulting firm, Rich Arlington & Associates, which works with facilities around the country to achieve better risk management for their exterior services.
The Company also consults to lawn care, landscape and snow management businesses on ways to improve profits, operations, marketing, and safety practices. Arlington continues to oversee Arlington Lawncare, formed in 1987, based in Erie, Pennsylvania where he resides with his family. This company provides lawn, landscape and snow management services and currently employs a 30-person staff and 200 subcontractors.
For more information on Rich Arlington & Associates visit www.richarlington.com or call (866) 454- 0948.
---